This post may contain affiliate links, which means we may receive a commission if you purchase through our links. Please read our full disclosure here.
This post will give you tips on how to create minimalist, neutral outfits.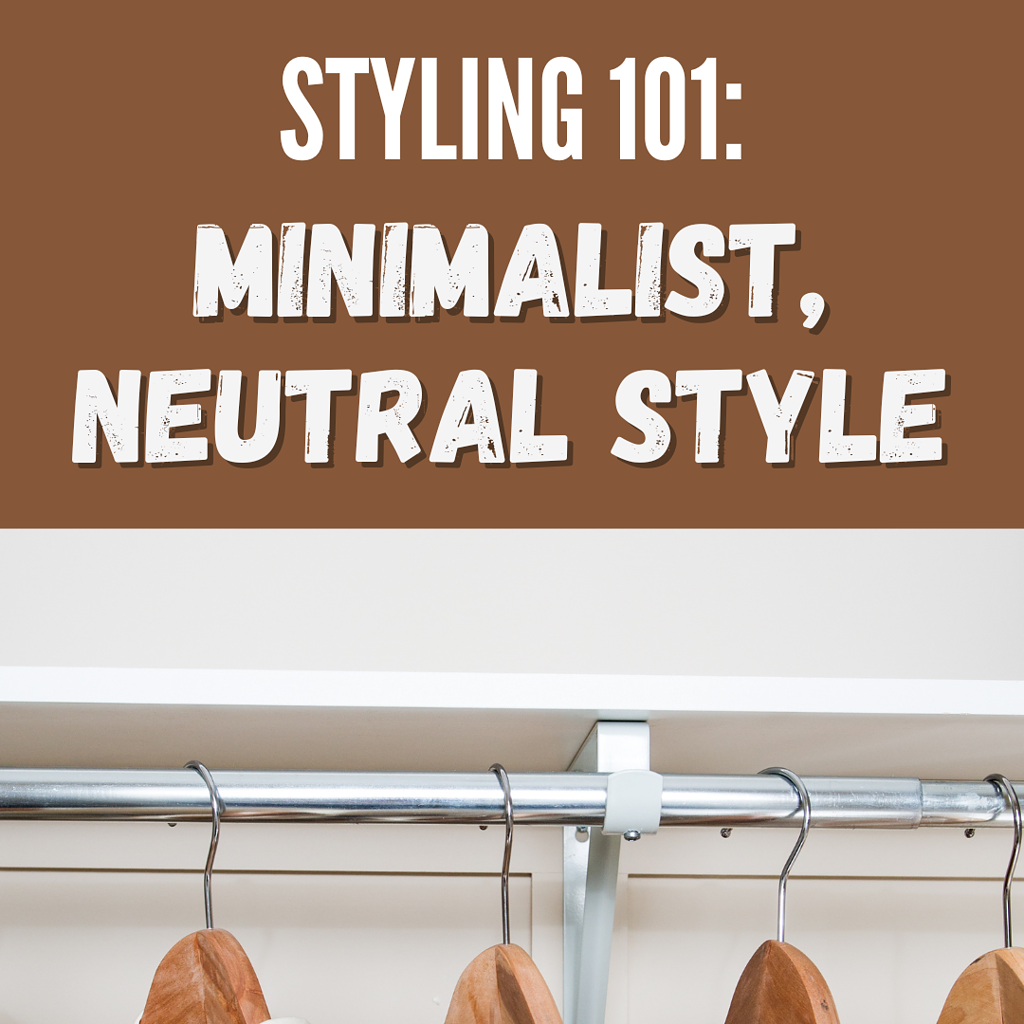 Fashion is fun. Styling an outfit is an amazing way to get your creative juices flowing. But, sometimes (and for some of us), it can be overwhelming. Look, I get it. it's a fast-paced, ever-changing industry. Trends and styles come and go in the blink of an eye. It can be too much to handle if you are dipping your toes into the pool of fashion for the first time.
I'm here to help.
In this series, I'll give you styling advice on some of the most confusing and difficult styling areas. I'll lay out all my tips, tricks, and hacks to help you create amazing outfits. Also, I'll exemplify everything in three degrees of difficulty so it can be easier to see what you can do.
This week, I'll give you all the tips and tricks for creating minimalist, neutral outfits.
What *is* minimalism?
Minimalism refers to anything that has been stripped down to its essentials, be it in design, fashion, architecture, music, etc. While the objects are reduced to their necessary elements, it doesn't mean that they don't have some sort of ornament, detail, or interest. It's about things that are simple, not boring.
Minimalism has been highly influenced by Japanese traditional design and architecture.
In fashion, minimalism means having a minimal amount of essential clothing items and accessories.
Usually, when someone wants to take their style and closet this route, they create a capsule wardrobe. The modern idea of a capsule wardrobe is credited to London boutique owner Susie Faux and it dates back to the 1970s.
A capsule wardrobe is created with a limited number of pieces, in a cohesive, usually neutral, color palette, and with few seasonal pieces to add through the year.
How to Create a Capsule Wardrobe & Minimalist Outfits: Tips, Tricks, & Hacks
Now, we get to the nitty-gritty. While minimalism is all about simplicity and capsule wardrobes are practical, *actually* creating one isn't as easy as it seems.
So, let's start with the most important part: how do you create a capsule wardrobe?
First, ask yourself what do you want to wear? Really think about this when you start planning your capsule. There are a ton of capsule wardrobe articles and guides online that can lead you in the right direction, but use them as exactly that: a guide, not a template. Choose pieces that make sense to you, your lifestyle, and your fashion sense.
There's no magic number of items. As I mentioned above, there are tons of articles about capsule wardrobes that give you a determined number of items, claiming that if you go past that limit, then it isn't a capsule wardrobe. Usually, it's the number 10. The truth is, there is no one-size fits all number that will magically apply to everyone's needs and style. The range of a capsule wardrobe can be from about 10 to 25 items, depending on *your* specific needs.
Seasonal items are extra. Swimsuits, winter coats, snow boots, sandals, we all have these things. Don't count them as items for your capsule wardrobe, keep them and make sure that whatever items you choose for your capsule wardrobe also make sense with your seasonal items. The same goes for undergarments and PJs.
Choose a color palette you love. The most common advice for creating a capsule wardrobe is to keep it as neutral as possible to maximize the use of the items. While in this post I chose a neutral color palette, you don't have to do so if you don't want to. You can add color with your coats, sweaters, and tops, and keep the bottoms in neutrals, or vice versa. (Here's an example of a capsule wardrobe based around pinks.)
Keep trends to a minimum. The point of a capsule wardrobe is to keep waste to a minimum and be long-lasting, which is why classic, timeless pieces should really be the base of your closet. If you really want to add a trendy piece, ask yourself if you will keep wearing it long after it has gone out of style, and then decide if you need it or not.
Creativity and innovation will be your best allies. Experiment with your items, maximize the way they can be worn, and mix and match patterns and textures to create different looks or aesthetics.
If you need a more in-depth guide to making your own capsule wardrobe, see our guide to creating a chic capsule wardrobe.
My Capsule Wardrobe
As you can imagine if you follow my posts, I do not have a minimal and/or neutral closet, and I don't usually make capsule wardrobes. I tend to rotate my closet seasonally, but I have a lot of items anyway.
For this post, I challenged myself for 10 days and created my own capsule wardrobe, in a neutral palette. I went with the neutral palette because I wanted this post to be as helpful to as many of you as possible and my usual color palette (with lots of bright colors) is not suitable for that.
To do so, I asked myself three questions: "What do I usually do every week?," "What do I want to keep from my usual style?," and, "What's the weather like?"
Here's a breakdown of the items I chose before we get to the outfits.
4 Tops & 1 Dress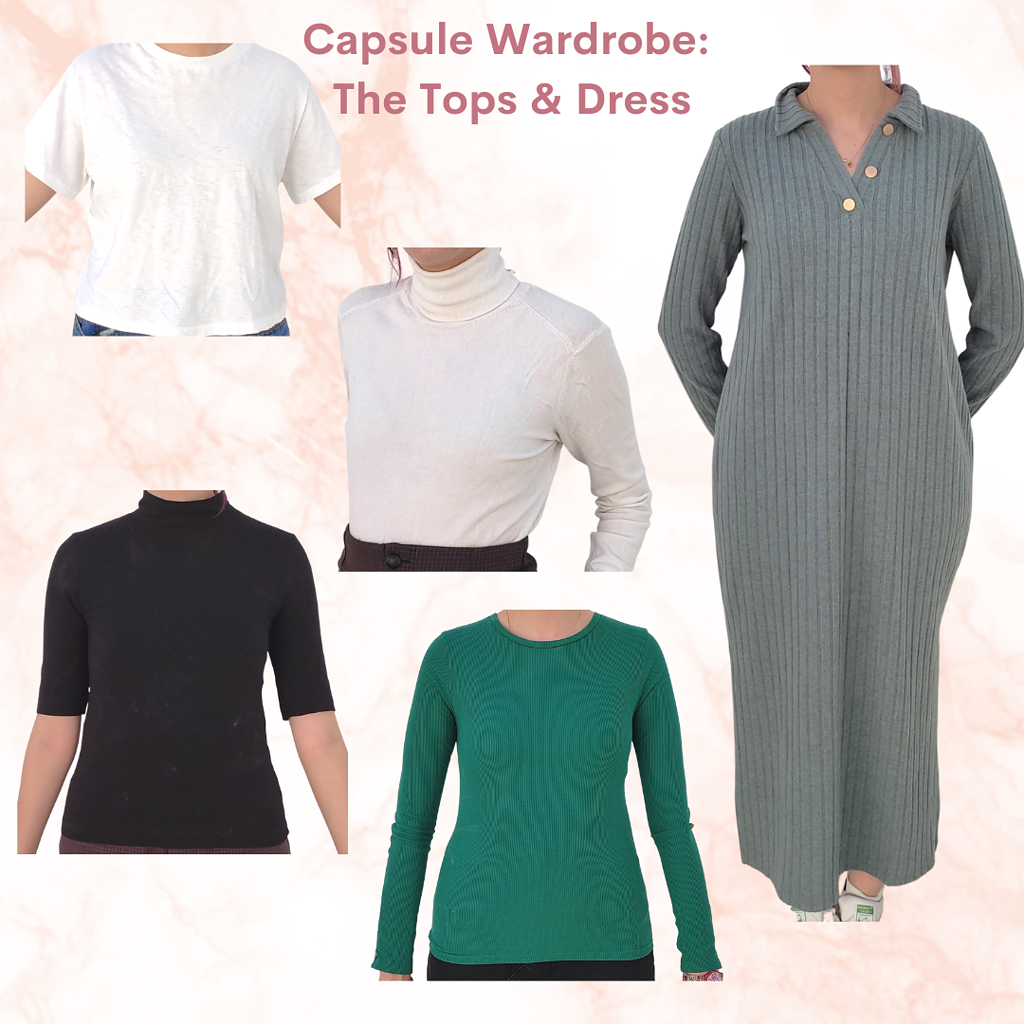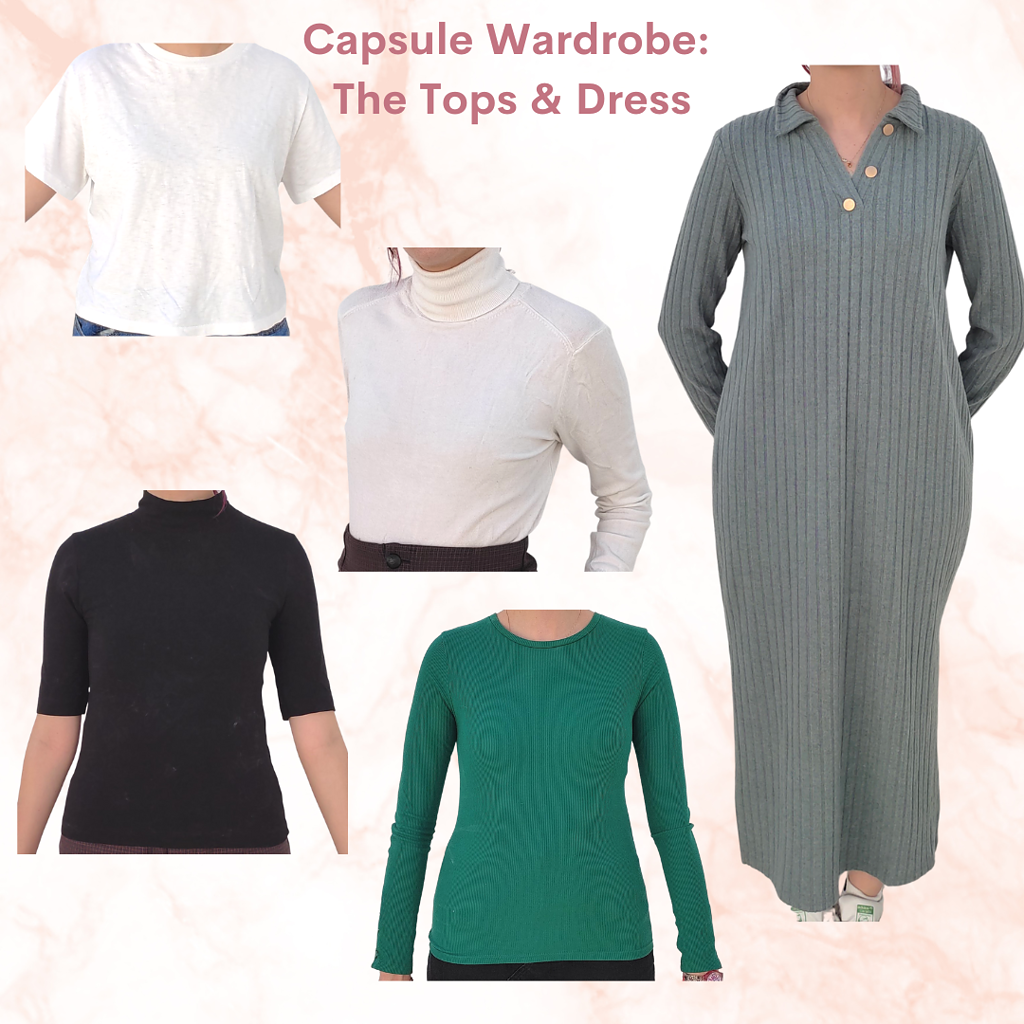 For this challenge, I chose 4 different tops and one dress. I figured that 5 items are an appropriate amount of tops/extra items: 1 per work day. Three of the tops are in neutral colors. I used the last top and the dress to add some color to my wardrobe.
4 Bottoms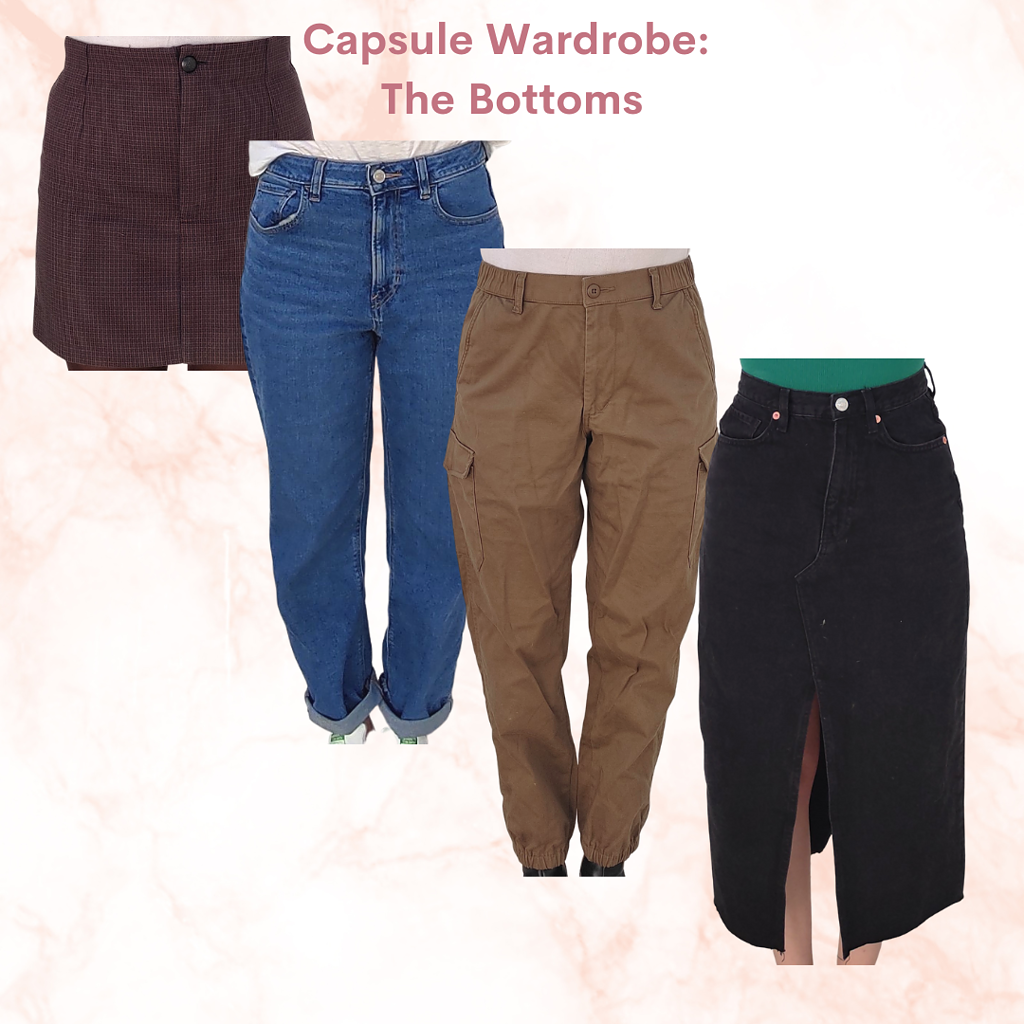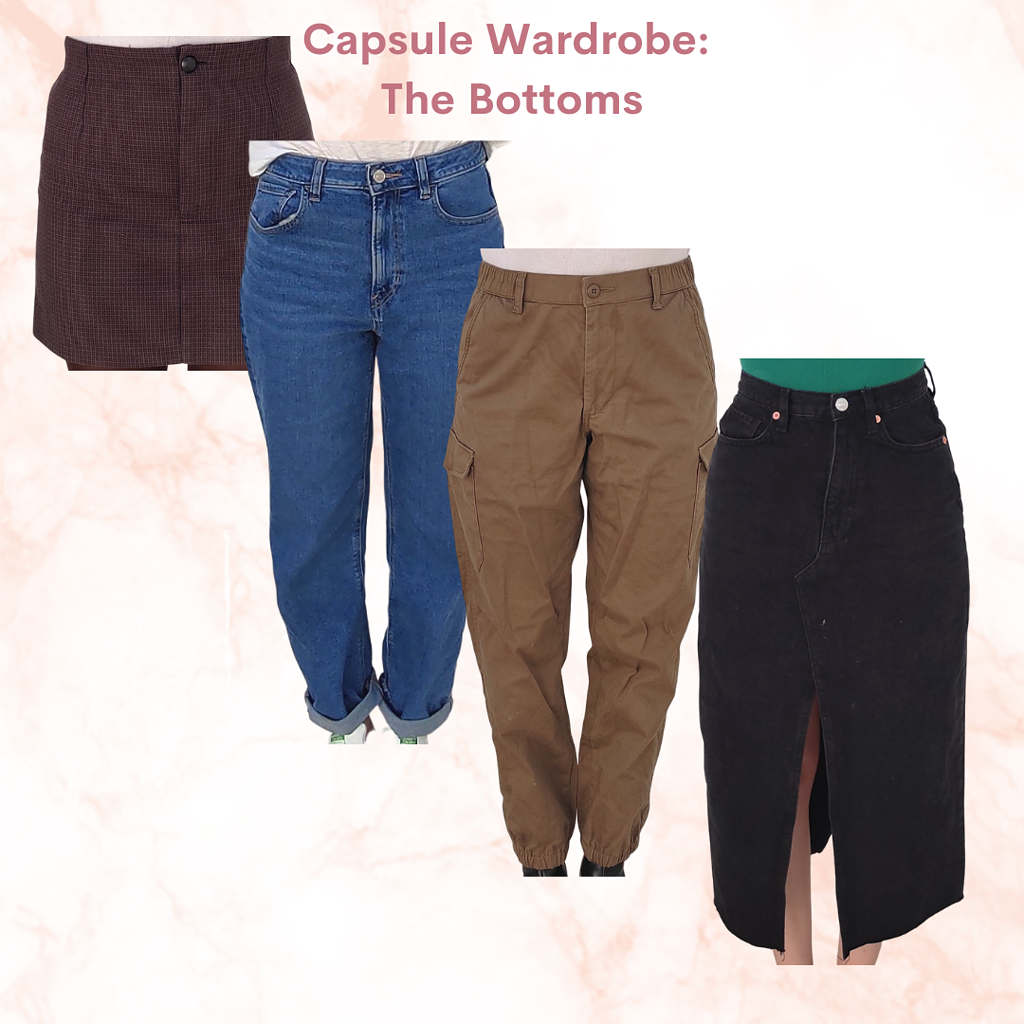 Then, I picked one pair of blue jeans, a pair of cargo pants, a plaid mini skirt, and a denim midi skirt in black. All of them are neutral and are easily paired with the tops.
3 Layers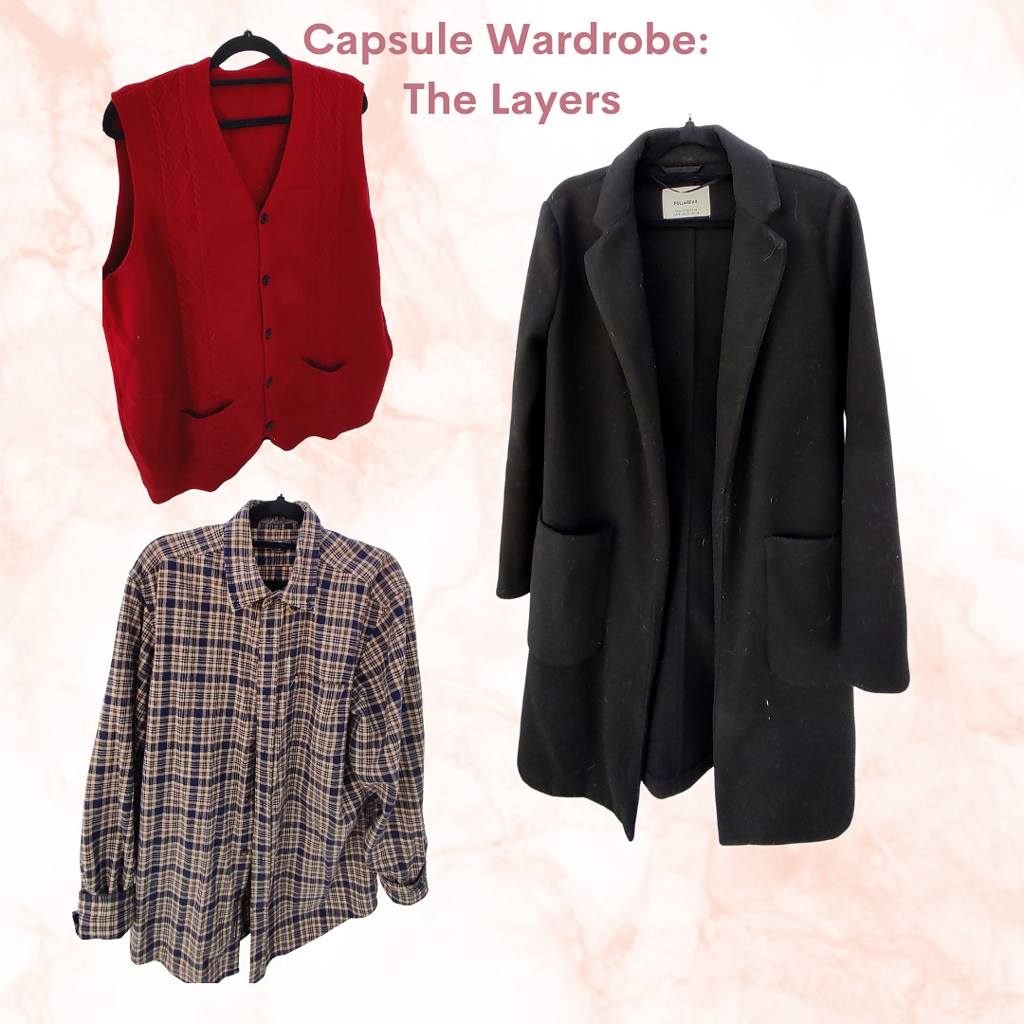 The weather in my city right now is cold-ish. We are definitely leaving fall behind, but it's not that noticeable yet. I get cold very easily, so I needed layers for my wardrobe.
For this reason, I added a black wool coat, a red knit vest, and an oversized flannel in browns and tans. I borrowed the vest from my dad.
The Accessories & Shoes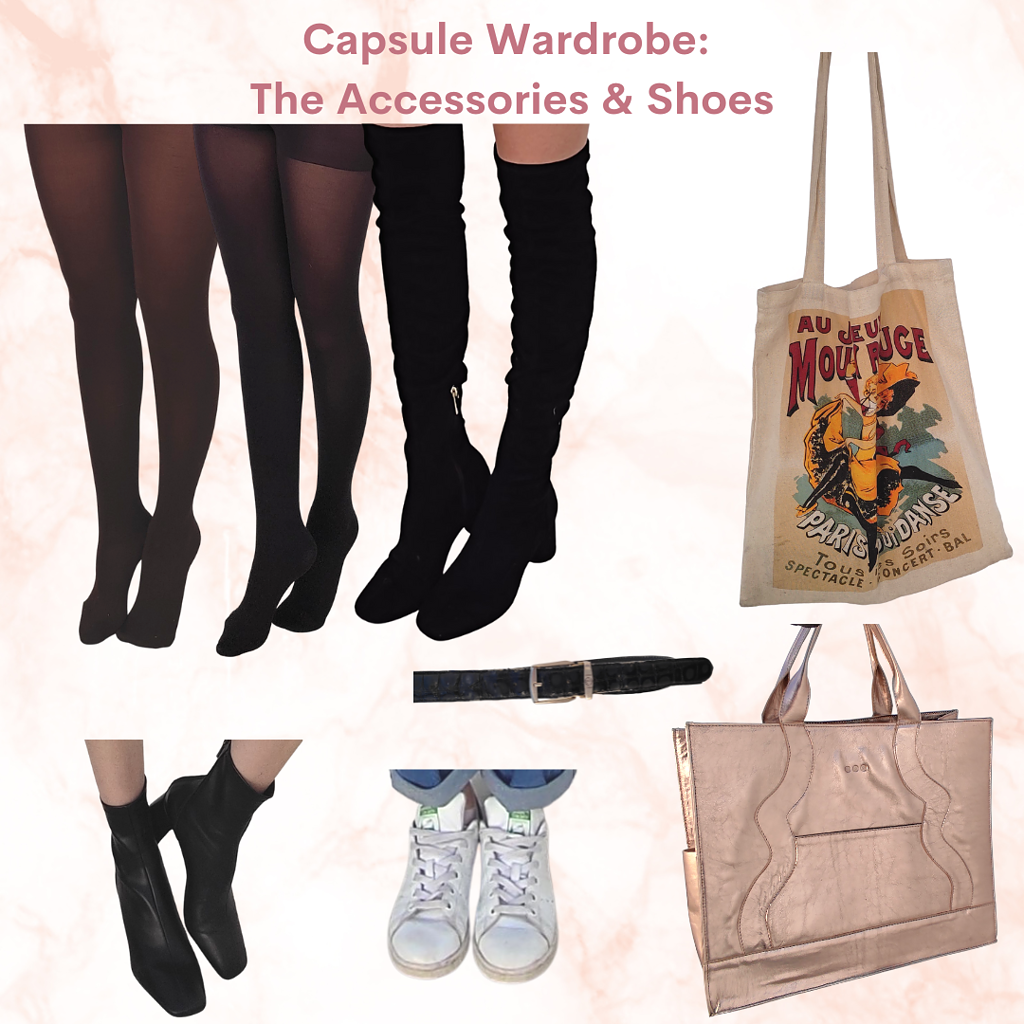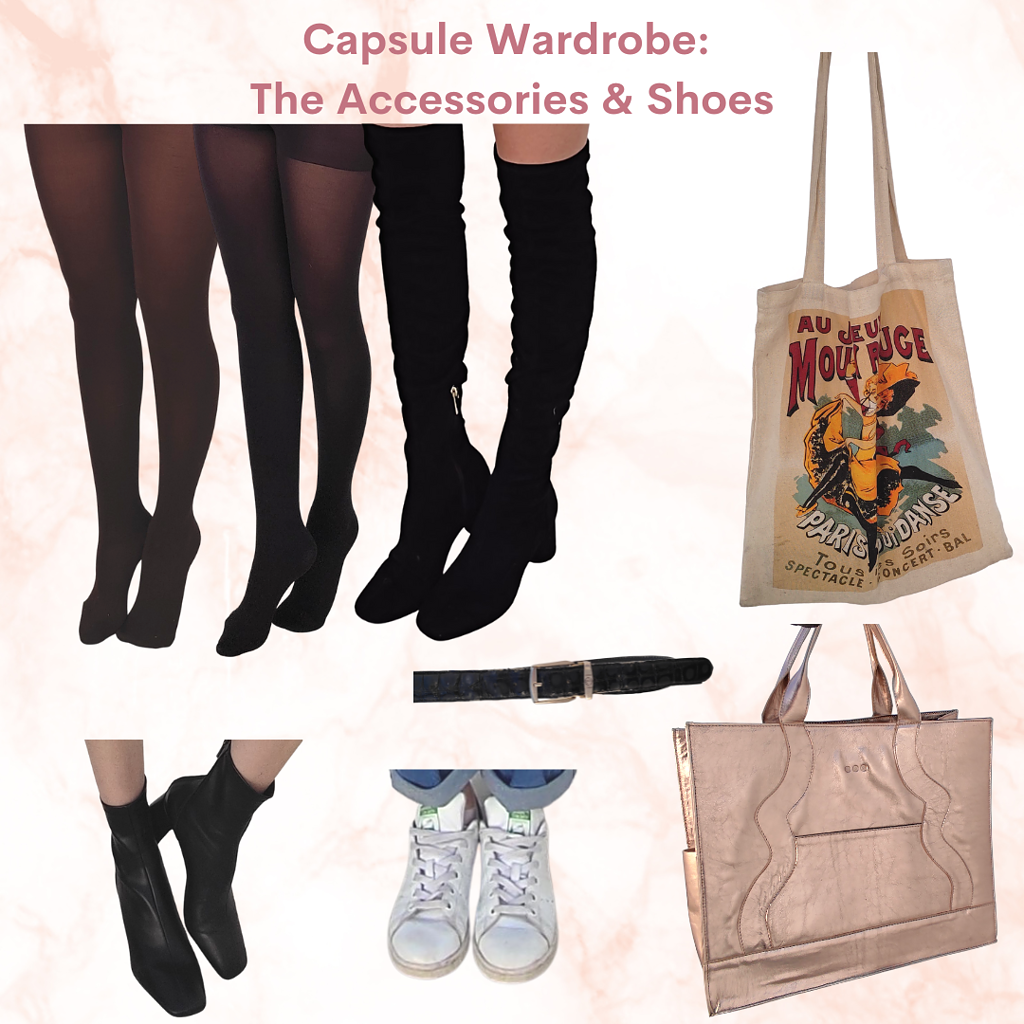 For the shoes, I knew I wanted comfort and versatility. So, I picked a pair of white sneakers, black sock booties, and some black over-the-knee boots. This allowed me to create day-to-night looks, or make some outfits more put-together.
For my accessories, I kept it to a black belt, brown and black tights, a canvas tote bag, and a structured rose gold tote.
Outfit Base – White Tee & Blue Jeans
To make my life easier, I created 5 outfit bases and created two versions of each: one casual and one upgraded. This way I could choose which would fit my day or event better without losing time in the morning.
The first one I thought of was to pair my blue jeans and white t-shirt.
Outfit #1 – Casual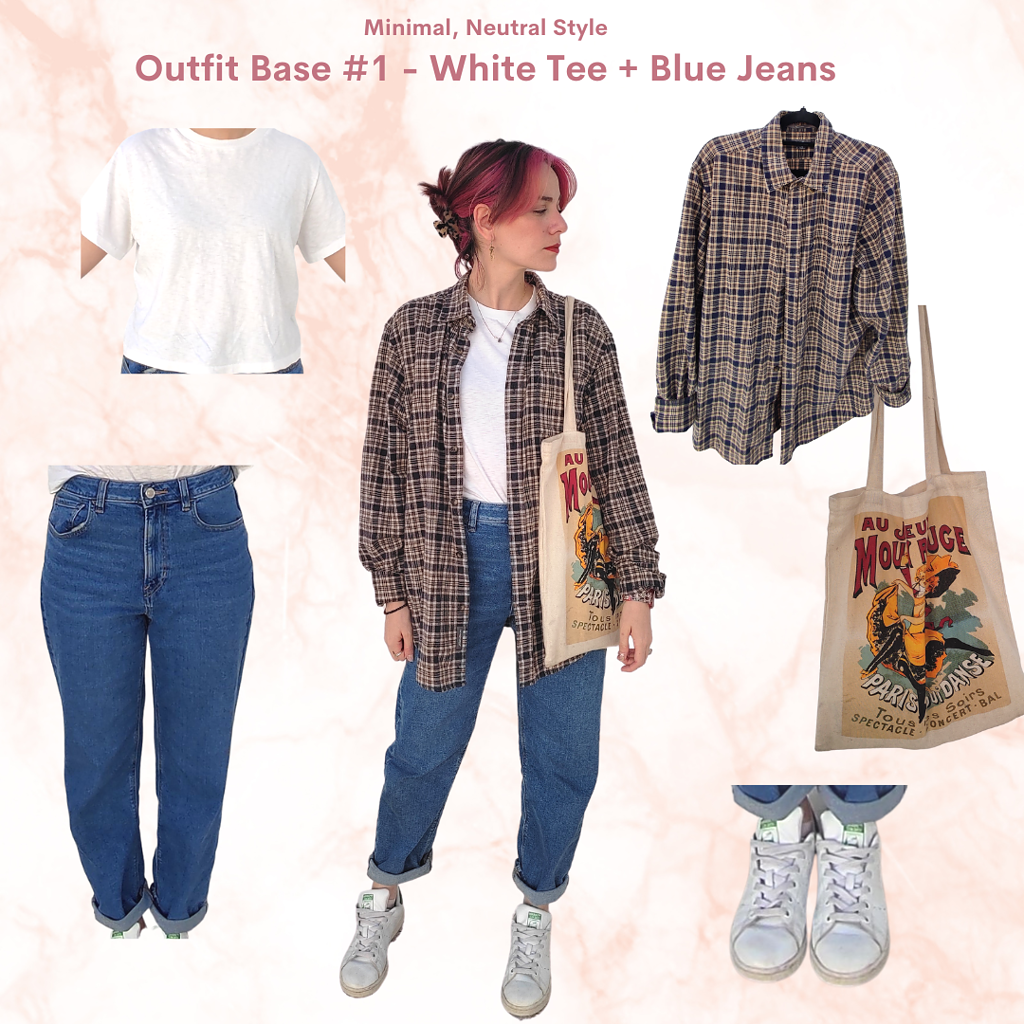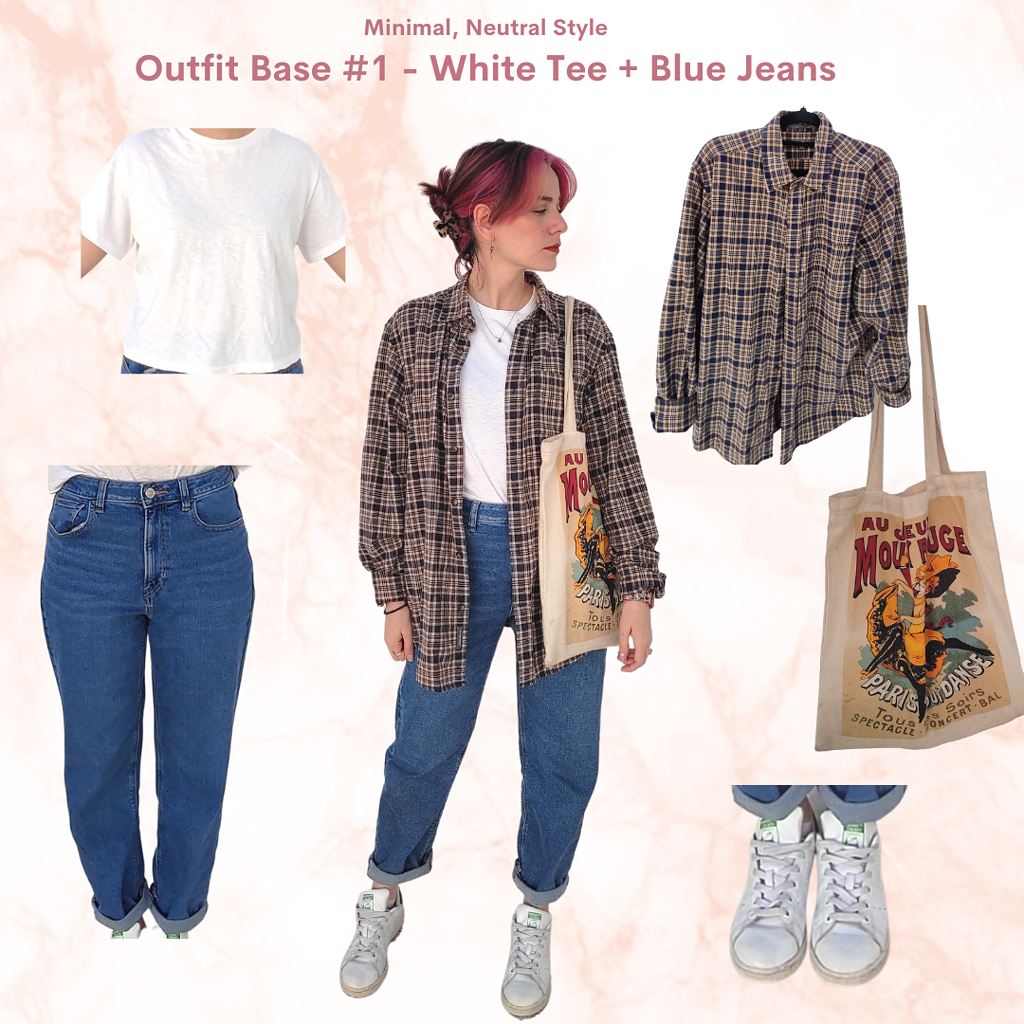 For my casual take on blue jeans and a white tee, I leaned into the comfort side of it. To do so, I threw on the oversized flannel as a light jacket. Then, I went with my white sneakers. Most of the week, I work from home, but I added this canvas tote when I went out to run errands and go swimming.
The pattern and fit of the shirt practically scream fall comfort look, and the graphic on the tote adds color without overwhelming the neutral tones of the look.
Outfit #2 – Upgraded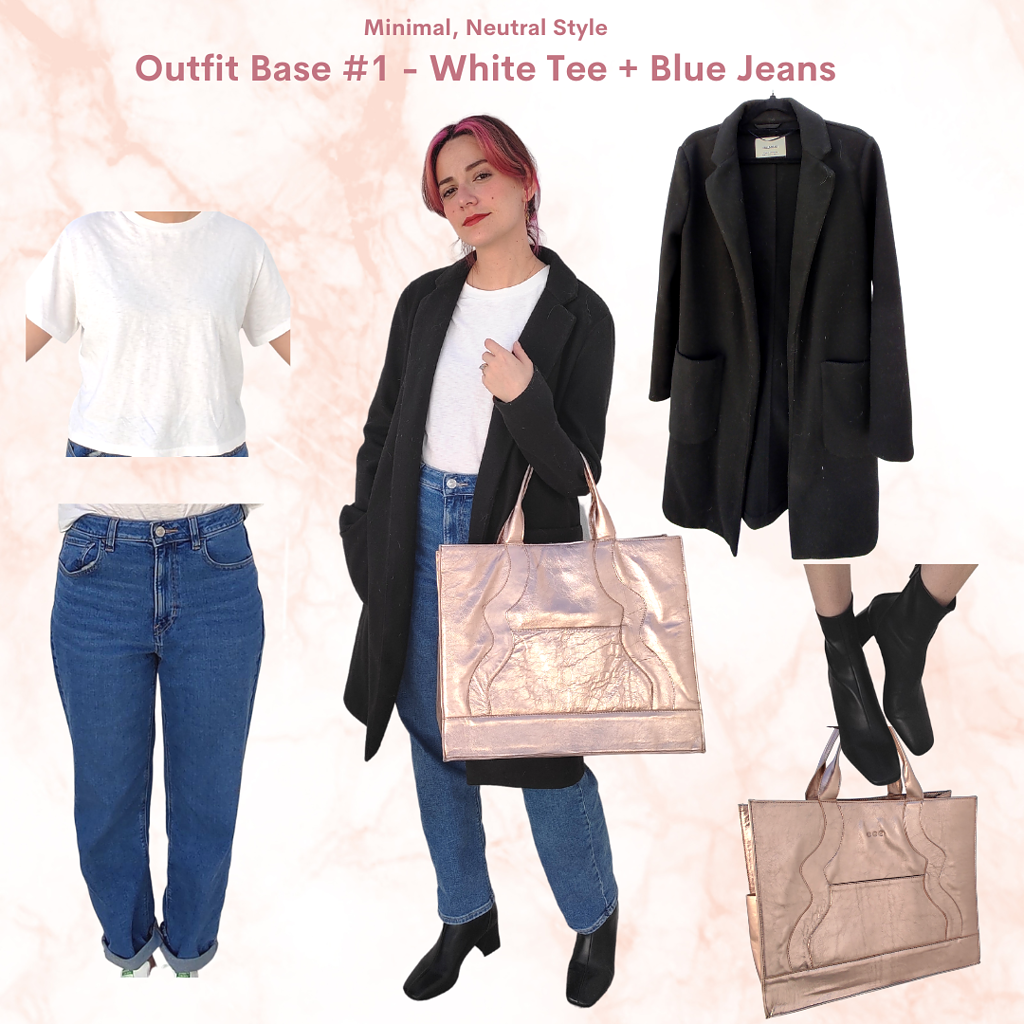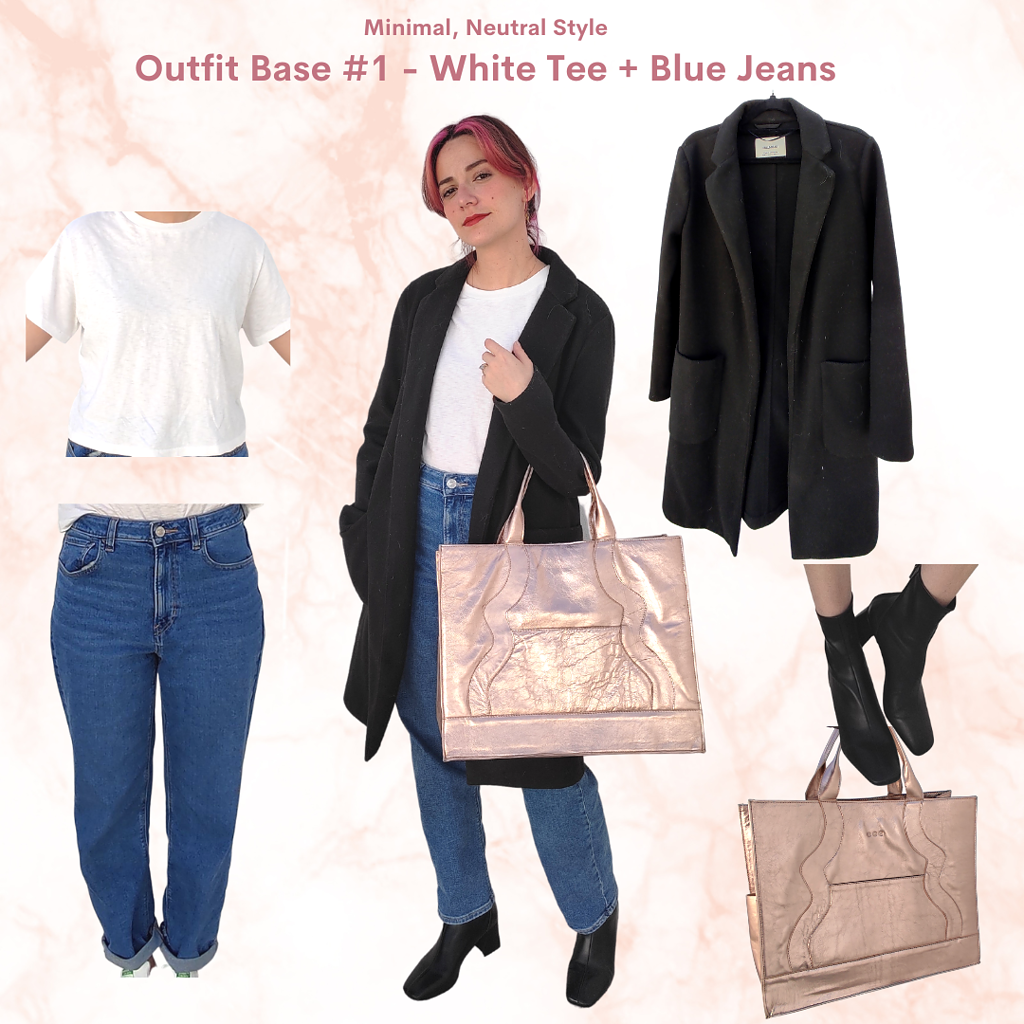 To create an elevated version of the last outfit, I just had to swap a couple of things. I kept my base: blue jeans and a white tee. For this one, I uncuffed my jeans to give them a straight-fit look. Instead of the flannel, I put on the black wool coat. I swapped the sneakers for black sock booties and the canvas tote for the rose gold tote.
I didn't do the different versions of the outfit bases back-to-back. So, when I first put this on, I didn't expect it to feel much different from the casual version, but dude, was I wrong! When I saw it on for the first time, I felt like this one was very sleek, modern, and put together, and it really contrasted with the other version. It was the confirmation I needed that the items I chose were the right ones.
Outfit Base – Knit Dress
For the second outfit base, I opted for the grey/green knit dress. The dress has long sleeves and a midi length, so it's really practical during fall and winter. It is basically an outfit in and of itself. So, I had to challenge myself to not be lazy and find creative ways of styling it.
Outfit #3 – Casual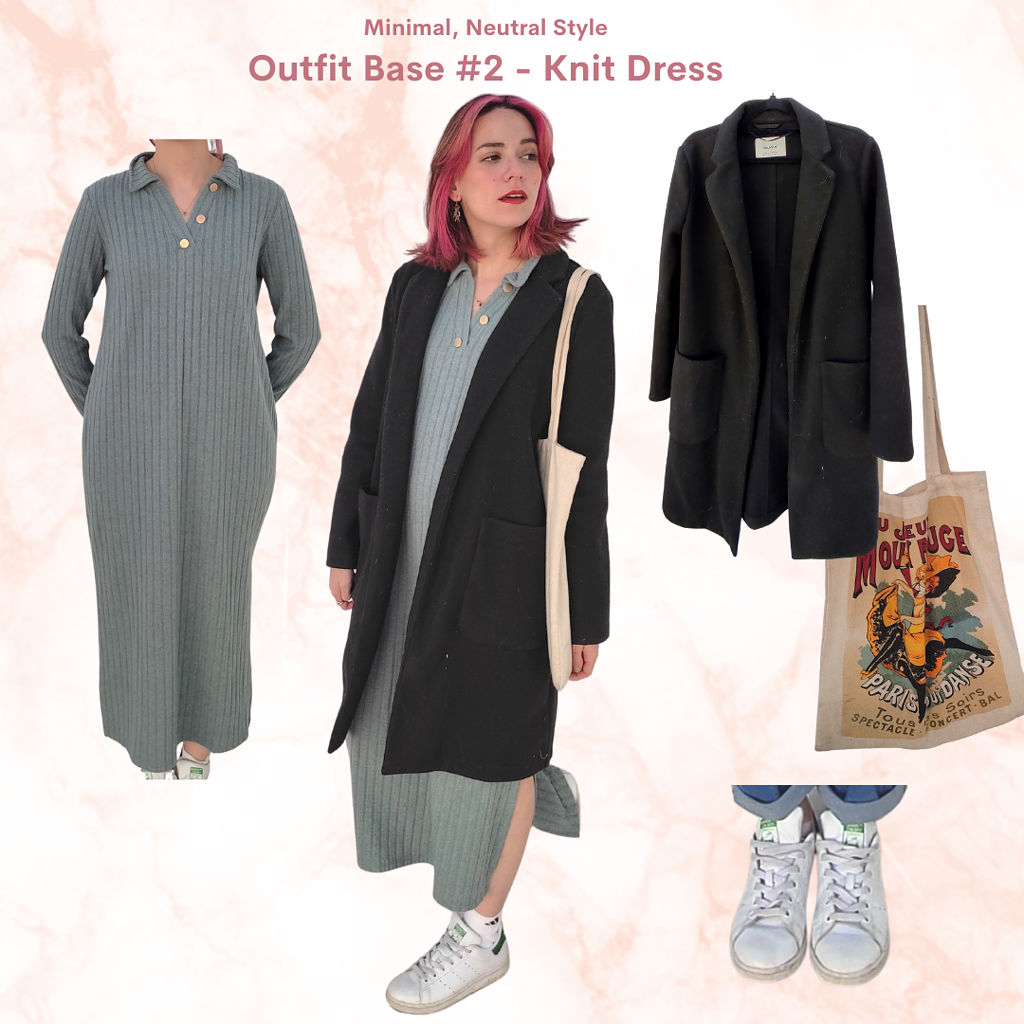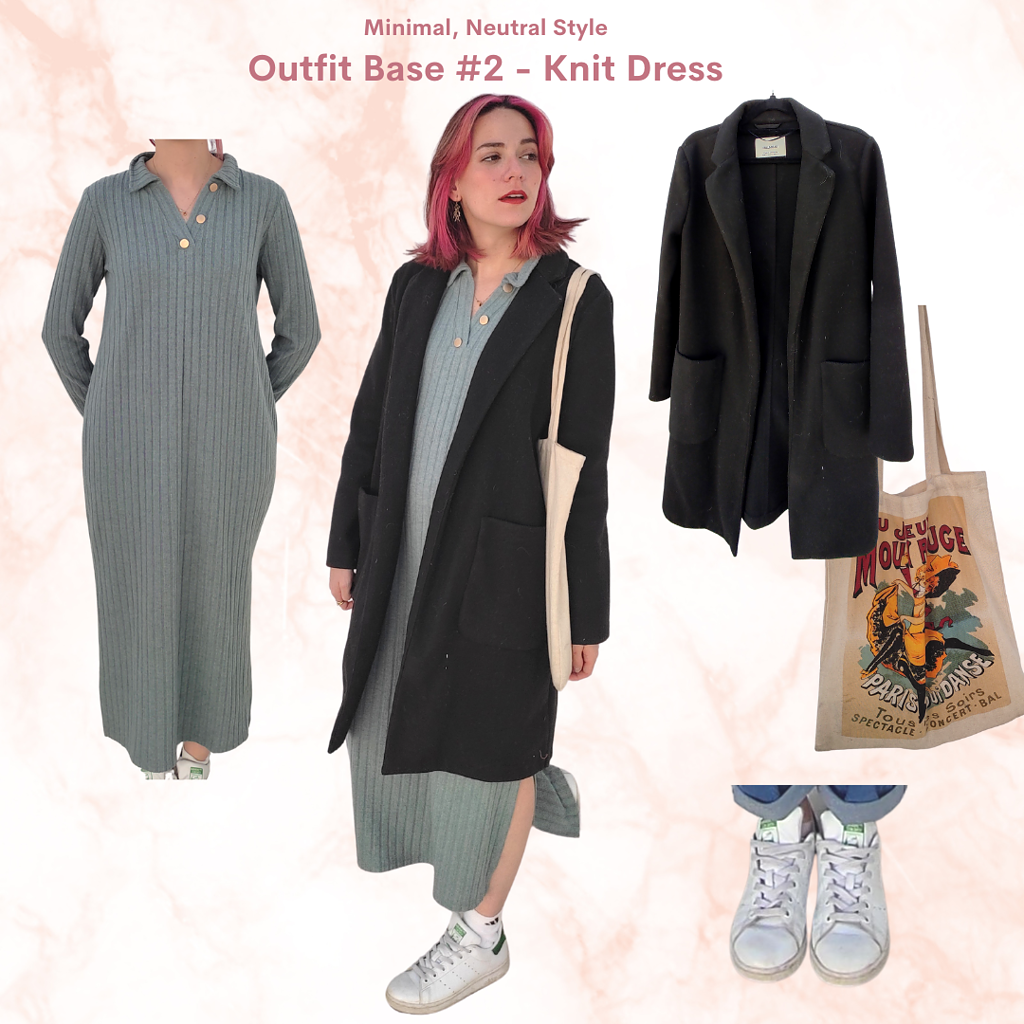 For the casual version, I put on the green knit dress. Then, to make it cozier, I wore my black wool coat. Both are long, but not the same length, so they complement each other well instead of overpowering each other.
I wore thick, ankle socks and my white sneakers, to give the outfit a sporty vibe. Finally, I chose the canvas tote because the graphic on it has a similar shade of green in it to the green of the dress, and this brings the whole outfit together
Outfit #4 – Upgraded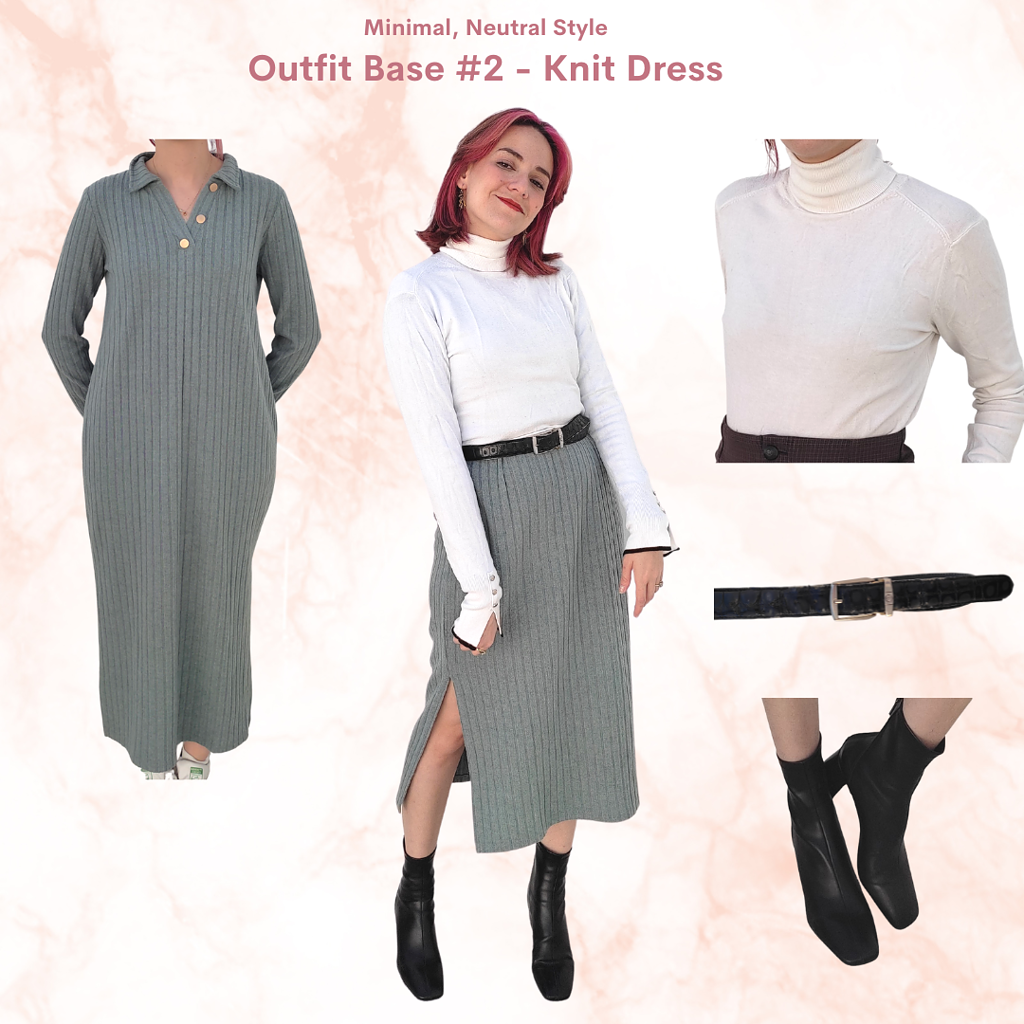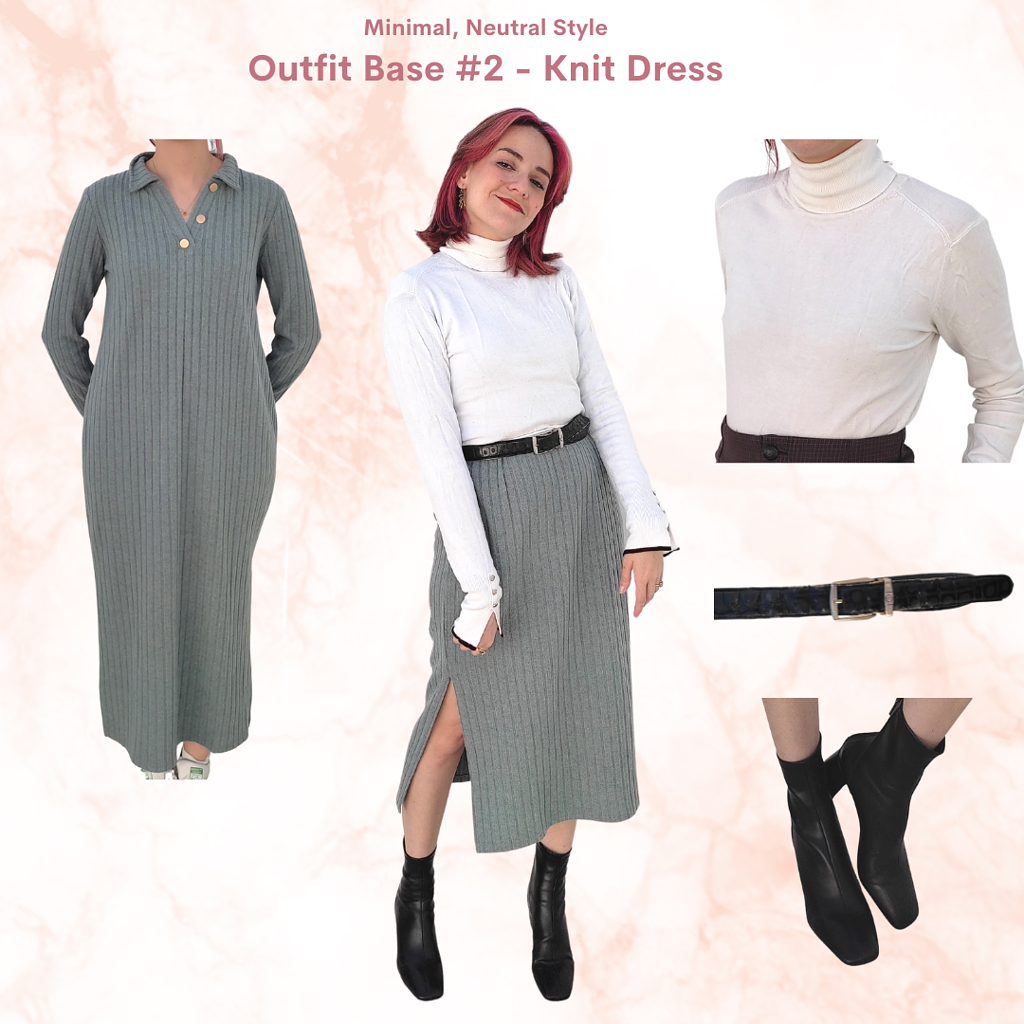 For the upgraded take, I wanted to be more creative with the dress. One of my favorite things to do when I'm stuck with an item is to wear it in a different way than it was intended. So, I decided to wear the dress as a skirt.
Next, I put on a white turtleneck shirt and used a black belt to crop the shirt and cinch my waist. Finally, I went with the black sock booties to tie the belt into the outfit.
I didn't run errands that day, so there was no need for a bag. If I had to pick one though, I would go with the canvas tote, because I feel it ties well with the top and the dress.
Outfit Base – Denim Midi Skirt + Long-Sleeve Top
Outfit #5 – Casual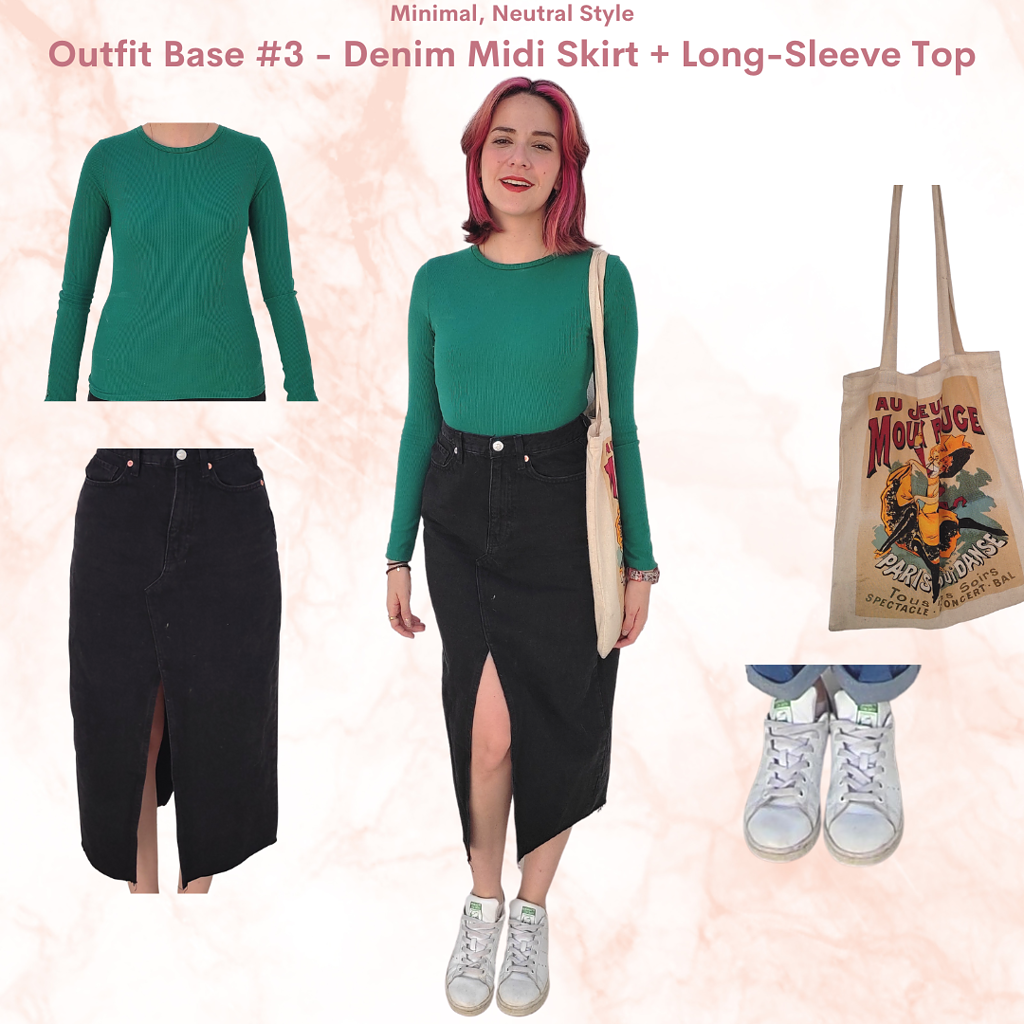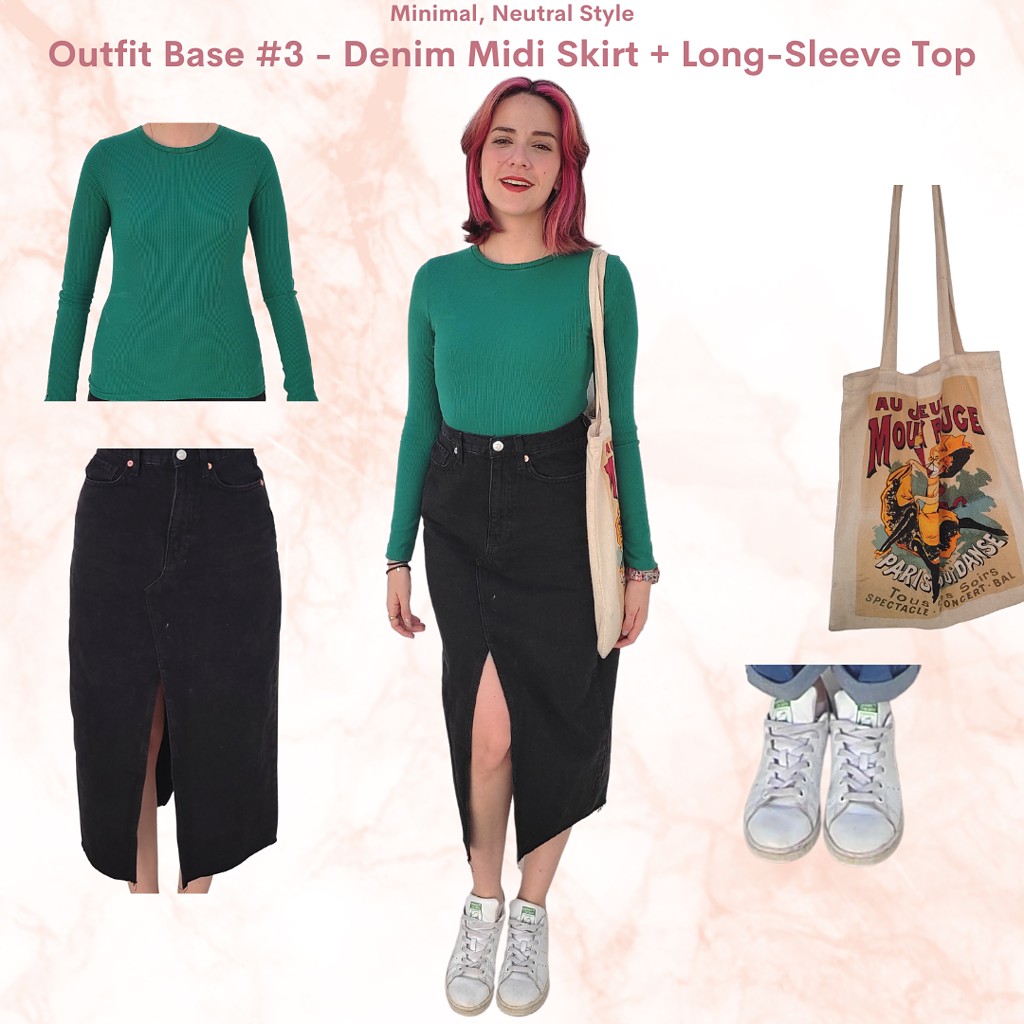 So, I had a black denim midi skirt and four top options if I counted the flannel. I ended up picking the green long-sleeve shirt. The vibrancy of the green balances out the black of the skirt and creates an interesting contrast. It also creates the illusion of a figure I do not have.
Next, I combined this with my white sneakers. The sneakers have green details, so they match really well. Finally, I used the canvas tote because it matched the relaxed vibe of the look.
Outfit #6 – Upgraded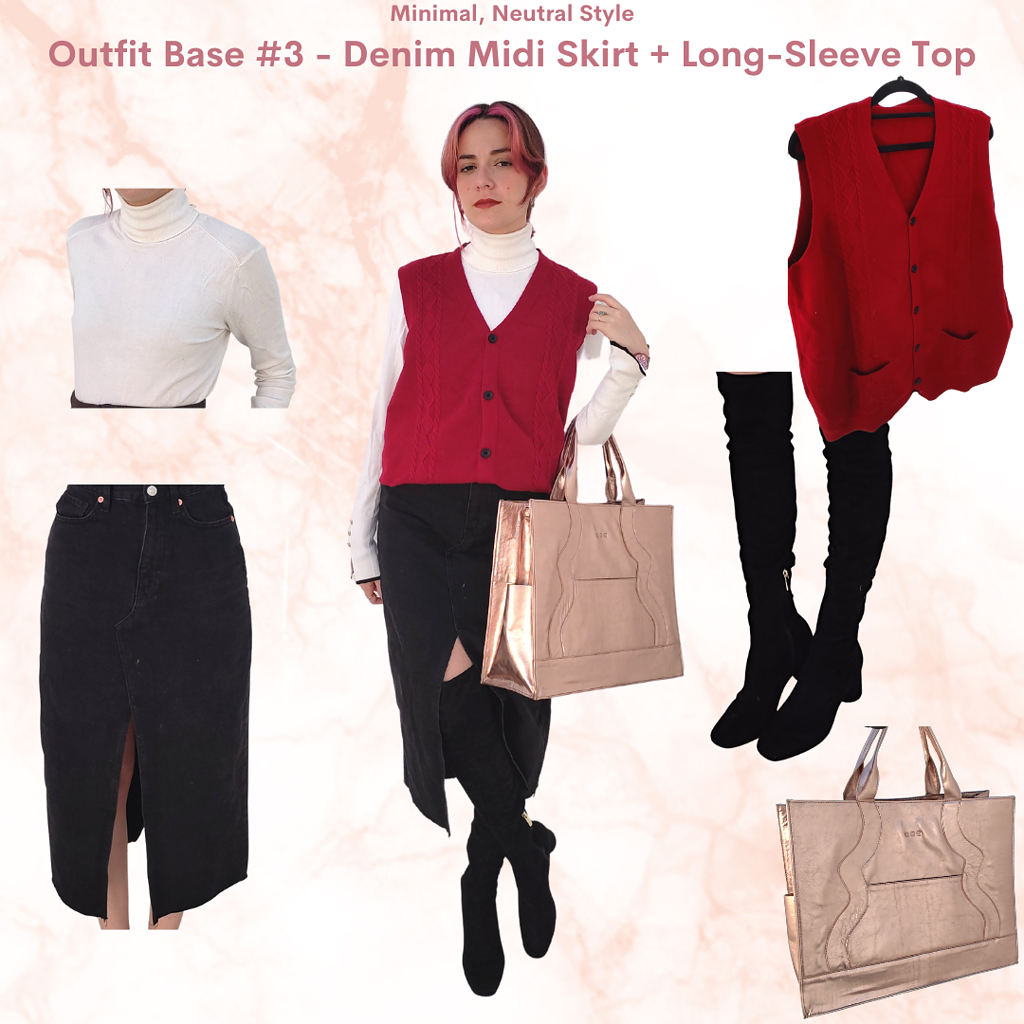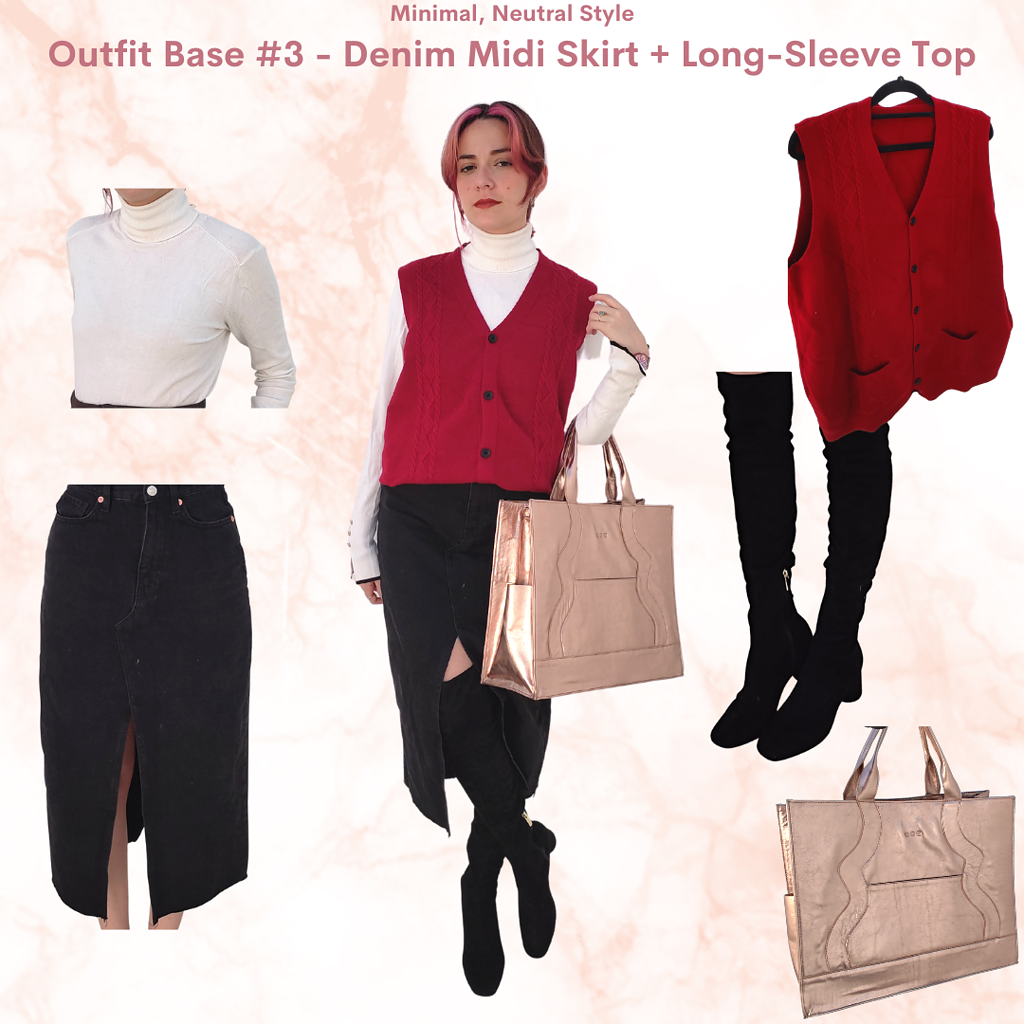 The casual version of this look was already pretty put together and awesome. For the upgraded version, I leaned into the fall/winter vibes.
First, I switched the green top for the white turtleneck shirt. Then, I layered it with the red knit vest. I tucked the vest a bit because it's my dad's and otherwise I would've been swimming in fabric. I traded the black sock booties for black over-the-knee suede boots to take advantage of the slit of the skirt. Finally, I used the rose gold tote to add a different, but still warm texture to the look.
Outfit Base – Cargo Pants + White Top
Outfit #7 – Casual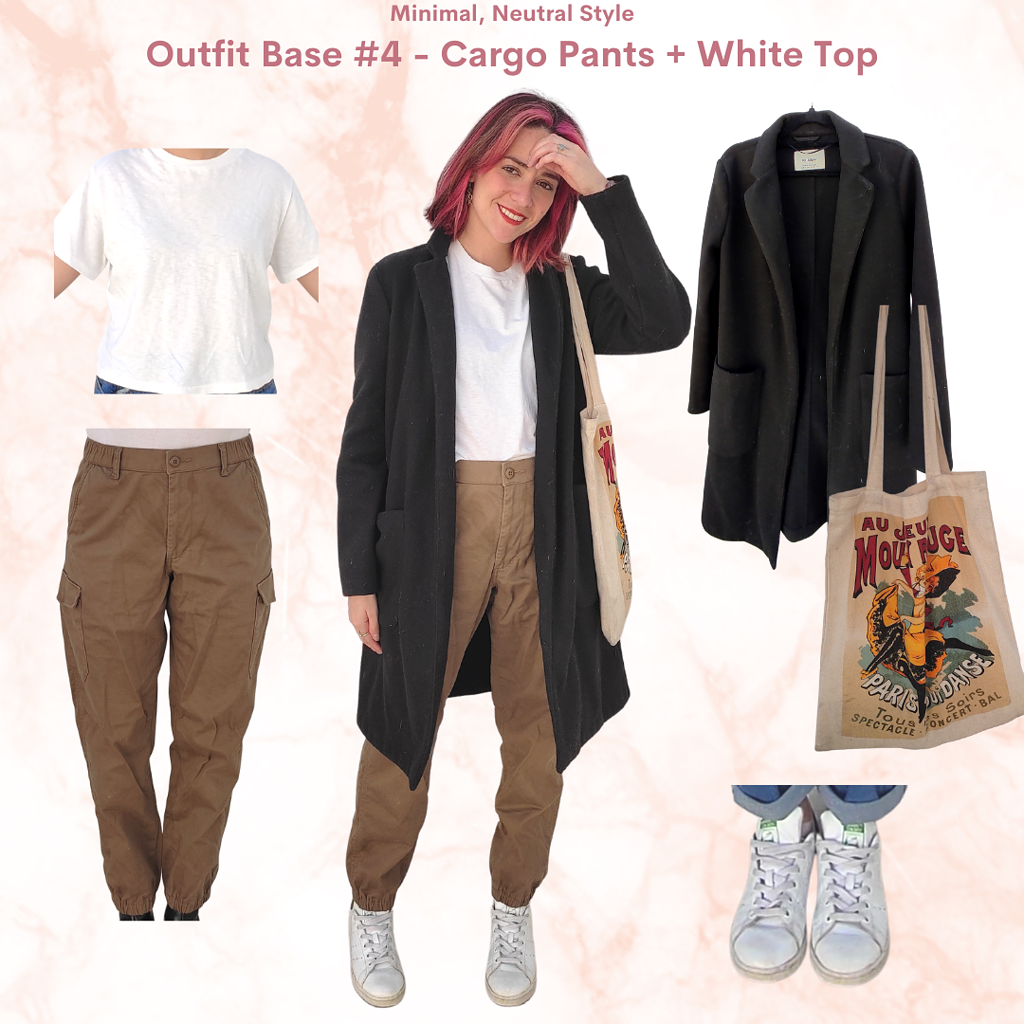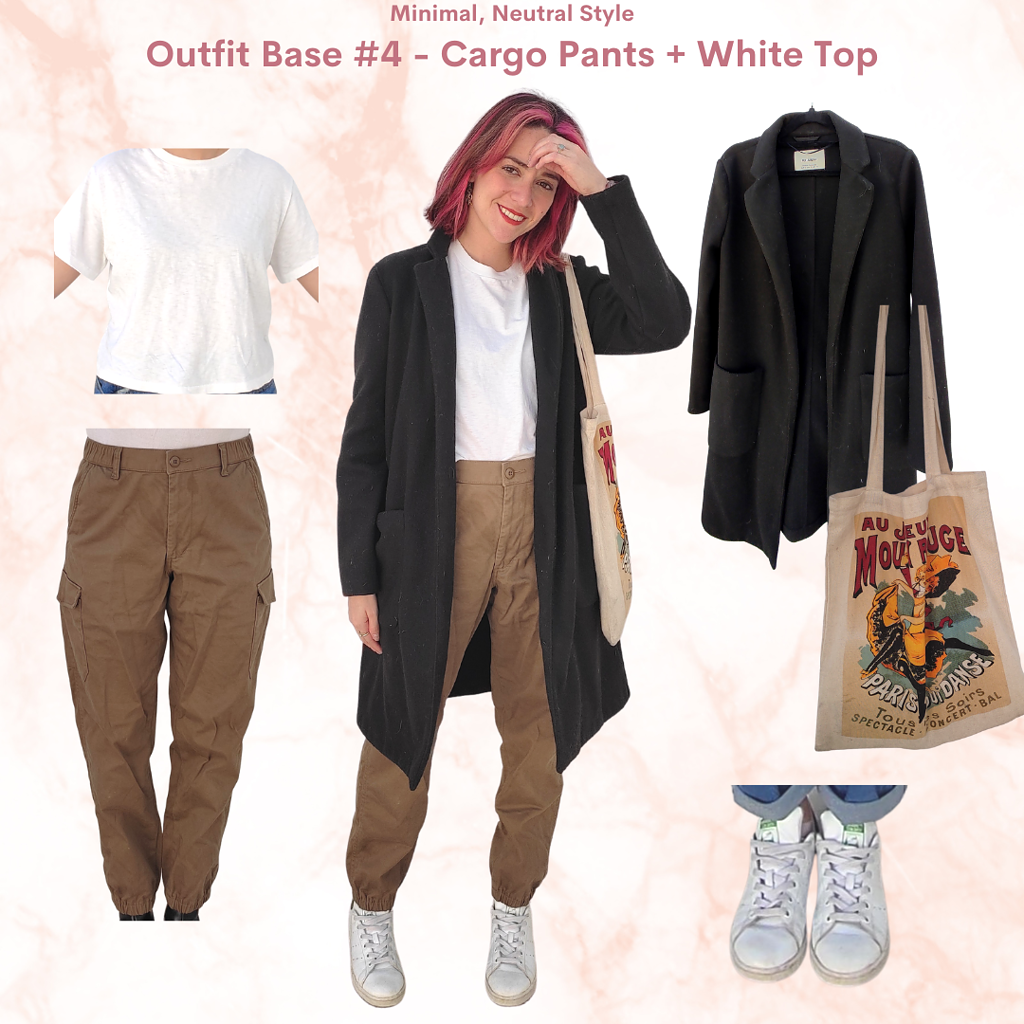 This minimalist neutral outfit base is how I usually wear these pants so it wasn't difficult to create a casual version of it. I paired the military-style cargo pants with the white t-shirt. I did a French tuck to make the combo look even more effortless. Then, I added my white sneakers.
Since it has been a bit colder with each passing day, I put on the black wool coat. Finally, the canvas tote was the perfect accessory to finish the outfit.
Outfit #8 – Upgraded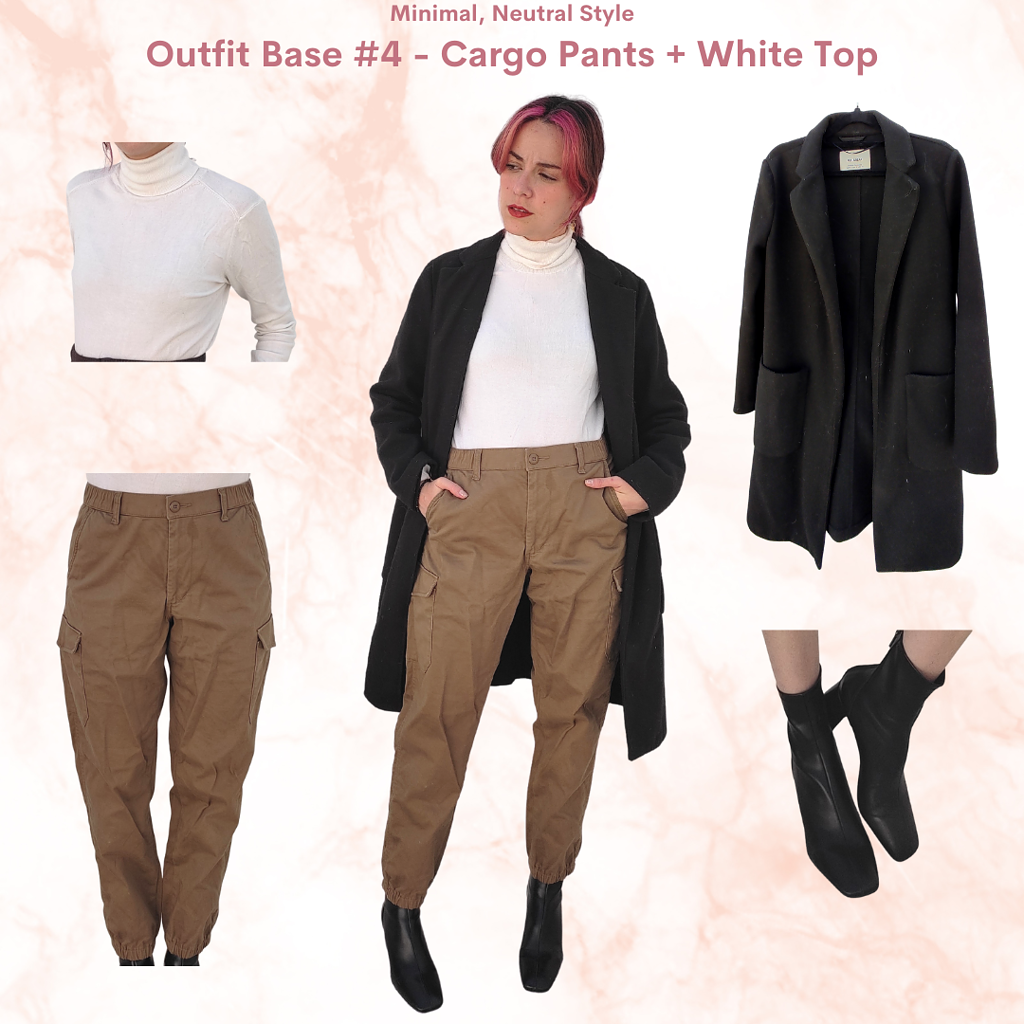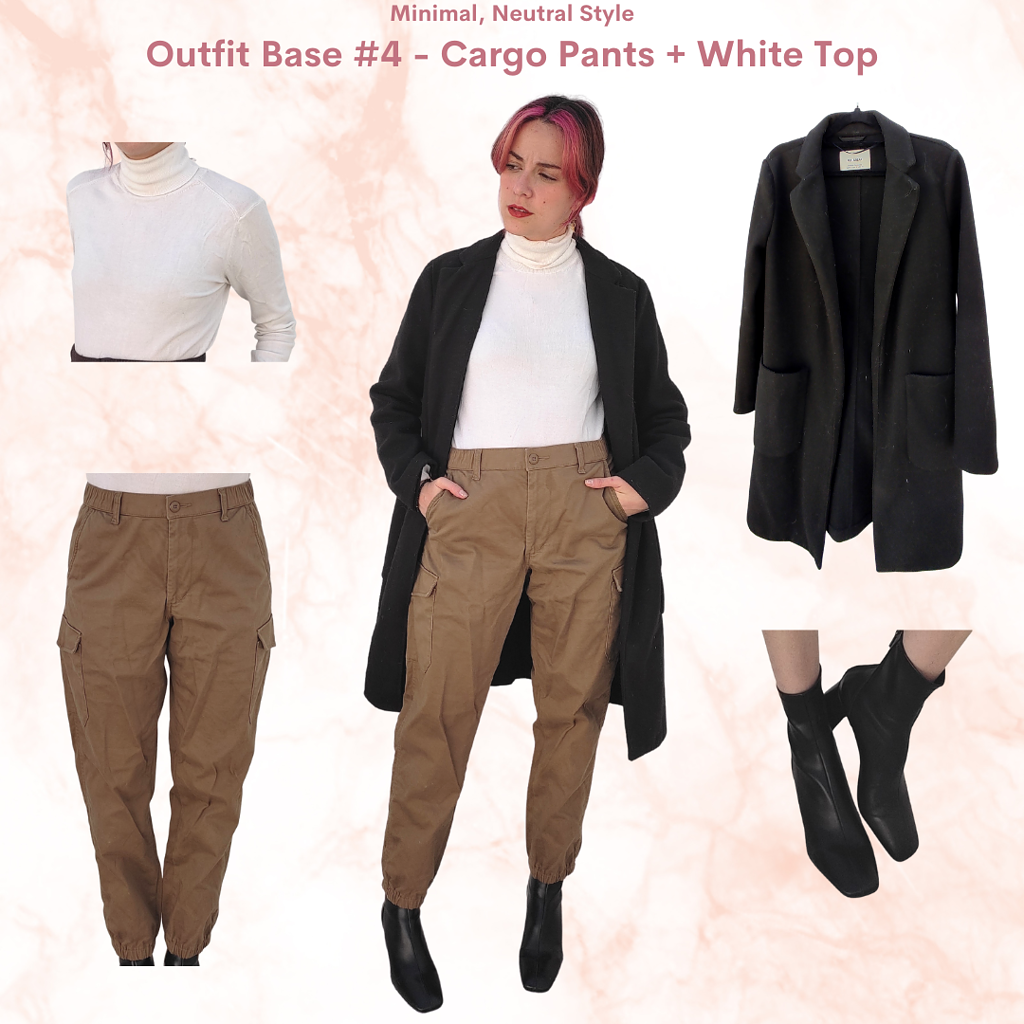 Now, how do I give the previous outfit a twist? I kept the cargo pants and black wool coat as-is. Then, I swapped the t-shirt for the white turtleneck shirt. The final change was the shoes. Instead of sneakers, I wore my black sock booties. The booties make everything sleeker and transform the look into a street-style, model-off-duty type of outfit.
I didn't feel the need to add a bag to this one, and if I were to add one, it's a tossup. Both would go really well with this look. If I had to choose, it would depend on what would I be doing. For example, if I wanted something more put together, I would go with the rose gold tote.
Outfit Base: Plaid Skirt + Turtleneck
Outfit #9 – Casual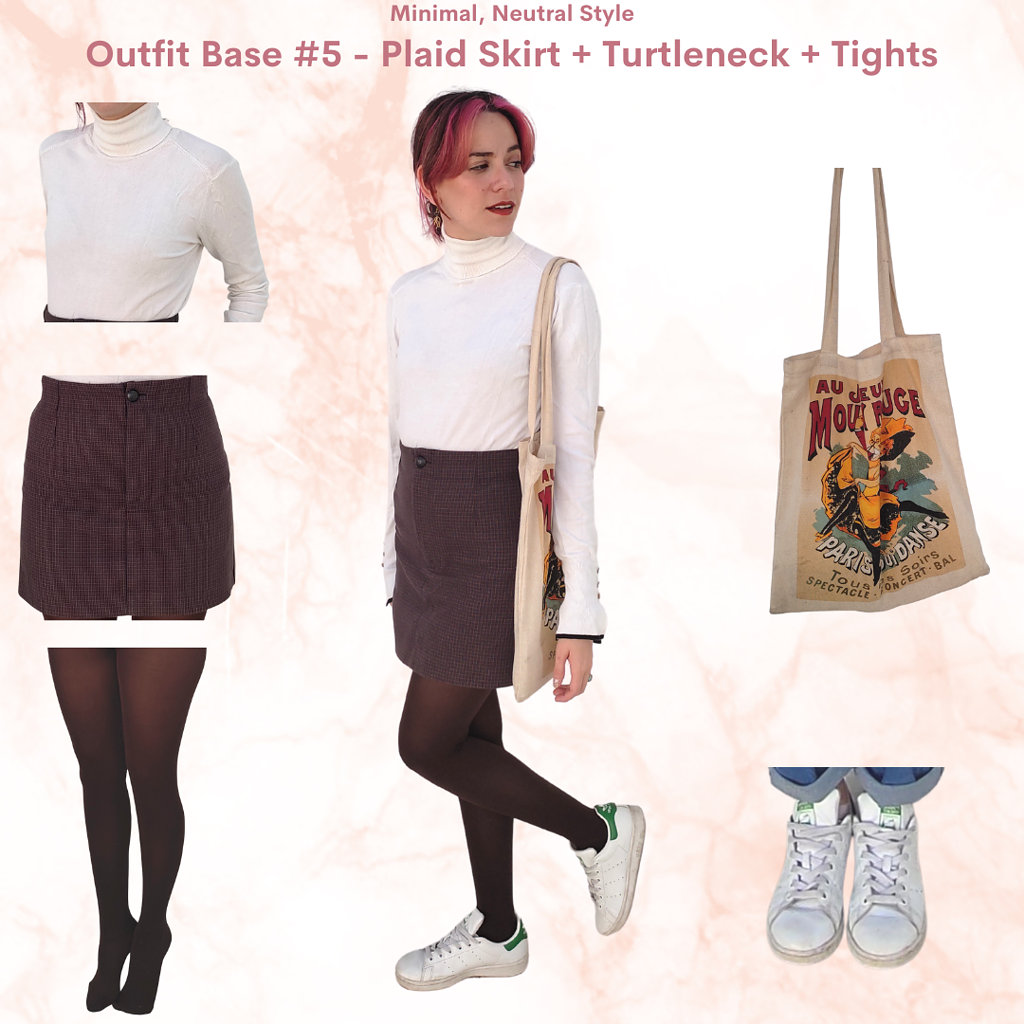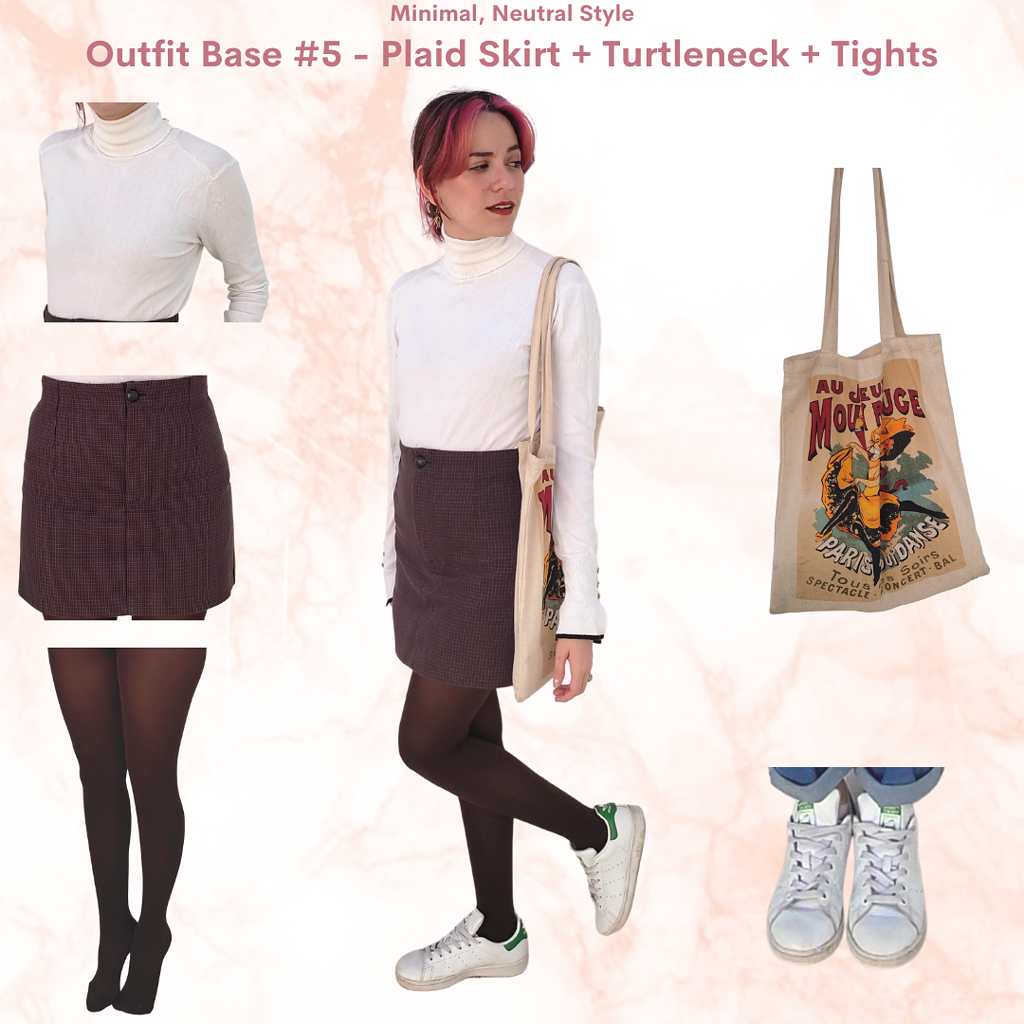 For this look, I had my brown plaid skirt and I decided to wear it with the white turtleneck to lean into the preppy aesthetic the skirt already has. Then, I put on a pair of brown opaque tights that are the perfect thickness for days when it's cold-ish.
For shoes, I went with the white sneakers, because I think these Adidas in particular and the shirt and skirt combo *make* the preppy look. The outfit kind of reminds me of the tennis uniform we all wore when I was in school, but with prettier colors. The bag I went with is the canvas tote, just to tone down the look a bit.
Outfit #10 – Upgraded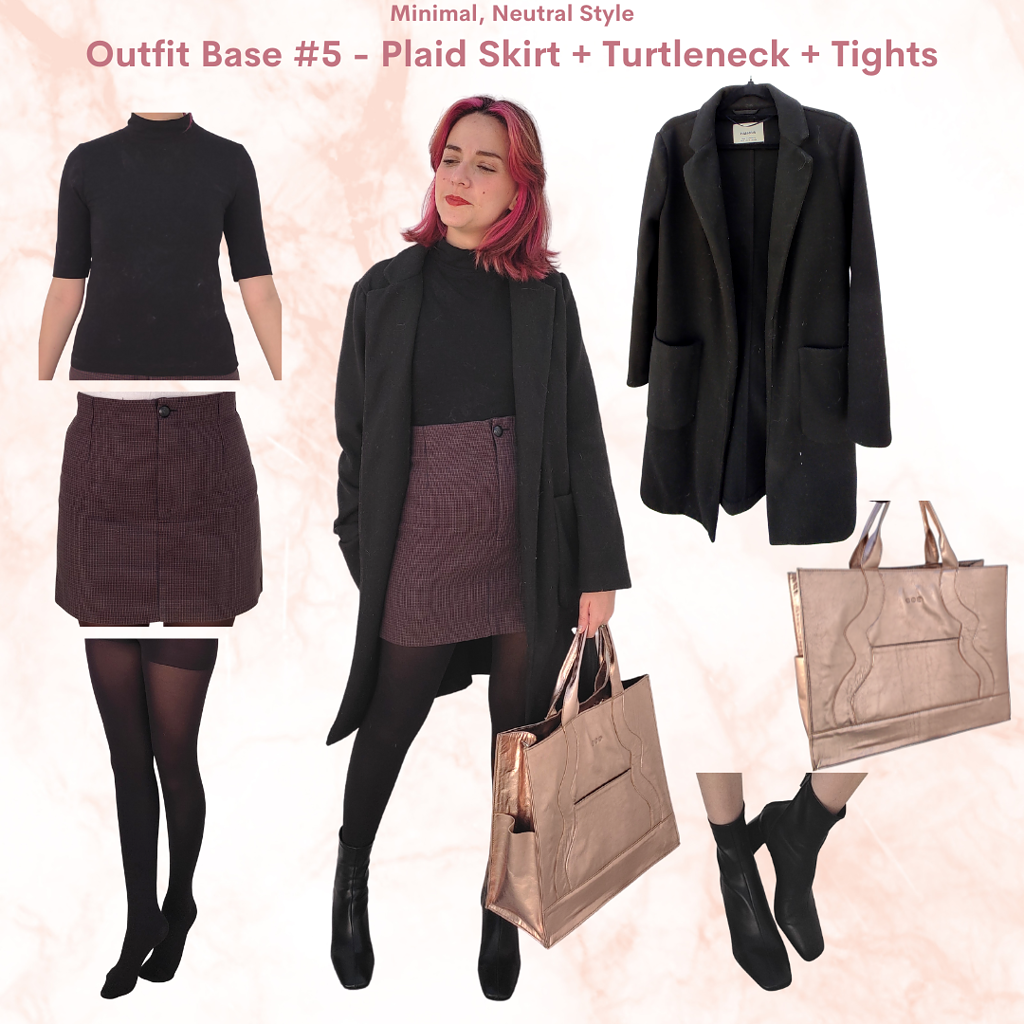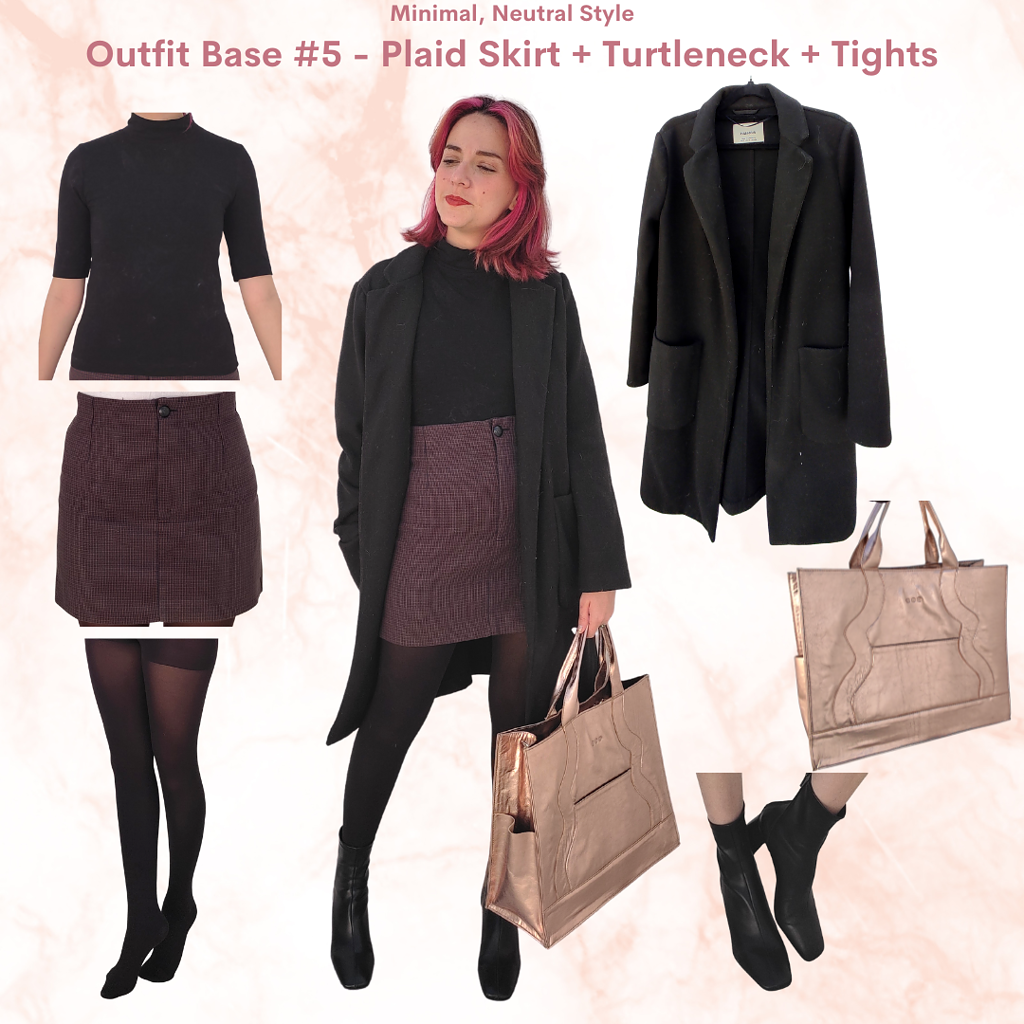 The final outfit I created is the upgraded version of the previous look. With some swaps, I went from a preppy look to a professional one.
Instead of the white top, I used a black turtleneck shirt. The sleeves of this shirt are three-quarter sleeves, so I definitely needed to wear the black wool coat. Then, I changed the brown tights for a pair of opaque black tights. Since I had gone with mostly black items, I wore my black sock booties. Finally, to add some texture and color, I used the rose gold tote.
Final Thoughts
The past ten days were both fun and practical. Since I knew what I could wear, I didn't lose much time going through different items and combinations to land on the perfect minimalist neutral outfit for the day. I enjoyed it because it freed me up a lot, but I did miss my bright colors and patterns.
The capsule wardrobe was a lot of fun. A capsule gives you a chance to experiment and see your items beyond of what they were originally made for. Unfortunately, it isn't realistic for me to have one. If I did, then I wouldn't be able to continue my "I Dressed like" series here and it would narrow down my options for this "Styling 101" series drastically. They are both possible because of my style and the eclectic closet that I have.
My favorite outfits were the casual jeans and tee, the casual knit dress outfit, the red vest outfit, and the brown and black professional look. I felt so cute in all of them! They also showcased different aspects of my personal style, stripped down to their very basic elements, which was the whole point. I'm so proud and happy that I could do this and actually managed to just use these items.
What do you think?
What do you think of minimalism and capsule wardrobes? Which outfit was your favorite? Do you have any styling questions you want me to cover? Let us know in the comments below!