How to Wear Your Fair Isle Sweater
I'm looking at my calendar for the week and realize that it's a lot more jammed packed than I thought. 
The challenge is I want to see friends and family, but it's also the busiest week for the business for the entire year, AND our new website launches in two weeks, AND I'm a little overwhelmed.
It's all good stuff, so I need to focus and take each day as it comes. 
Typically, for an event-type week like this, covering Black Friday through Cyber Monday, I go into full bridge-troll mode: sweats, messy bun, no make-up, the works, like finals week in college, and lock myself in my office. 
But this week, I'm working on the go and need to look like a person.
So I spent an hour last night making sure what I wanted to wear was clean, picked up dry-cleaning, and corraled it all together. I find this immensely helpful, so I can just grab an outfit and go. 
And it inspired me to share this lovely sweater from Old Navy featured in our Holiday Capsule styled three ways in case you also need a few more outfits than expected.
I'm going to wear it Friday night when we get our tree and do some Christmasy things with our girls. 
It's my favorite version of a Fair Isle sweater that we've featured all season because of its neutral, tonal color combination. 
So let's discuss How to Wear Your Fair Isle Sweater.
Cozy Fair Isle Cable-Knit Turtleneck Sweater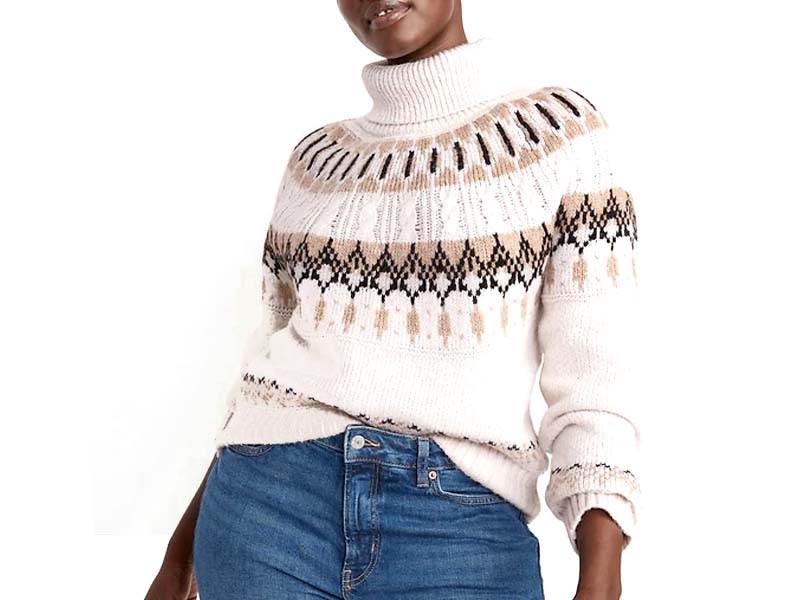 Fair Isle Sweater, $50 
Available in ivory or black, both with neutral accents.
Old Navy kills it with inclusive sizings, so you can scoop this up in regular, petite or tall in XS – 4X. 
It's a little on the short side, but not cropped. I like how it fits and hits at around your waist. 
And if you have an Old Navy local to you, you can order online and pick up same day in the store to save a ton of time. 
You can take 30% off at checkout today, bringing it down to only $35. 
Below I created three outfits, with some familiar pieces and introducing new ones with some fresh styling ideas. 
How to Wear Your Fair Isle Sweater Three Ways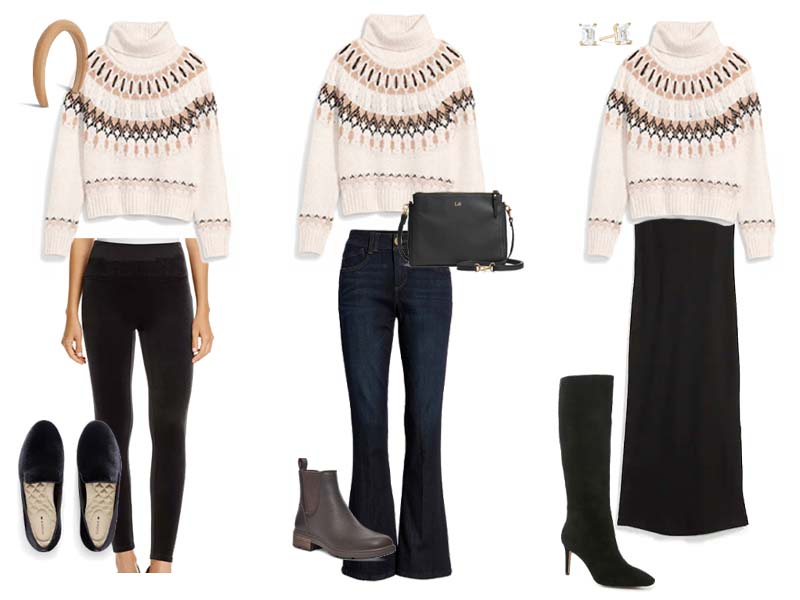 Cute, right? 
Let's break each look down. 
With Novelty Leggings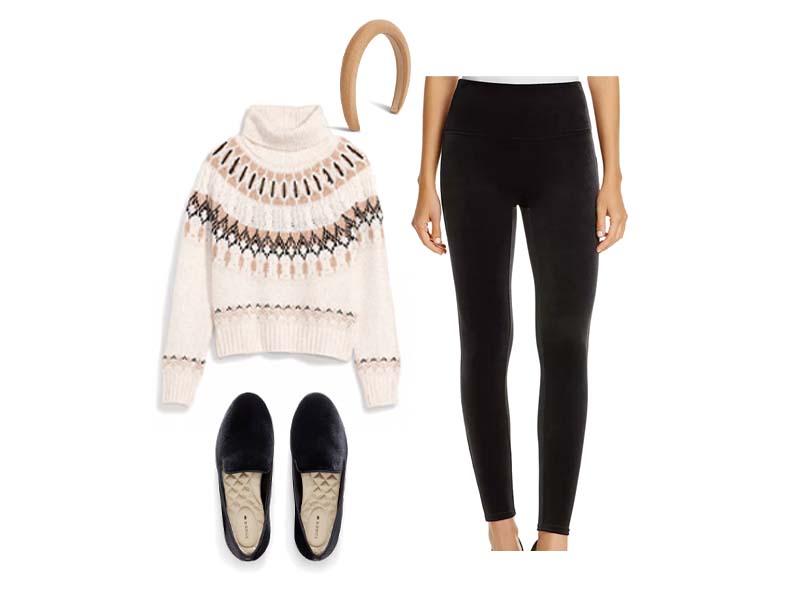 Velvet Leggings, $98 | The Starling Loafer, $98 | Padded Headband, $20 
My first thought was, faux leather leggings! 
And yes, that's a great option, so go ahead and do that if you have a pair burning a whole in your closet. 
I mentioned yesterday, I highly recommend the pair that started it all, the original style from Spanx. On the Spanx website you can get the best size selection. 
But then I saw these velvet leggings on their website, and needed to share them, in case you're not a faux leather fan, or just wanted something different. 
The legging look feels like something we would wear hosting or hanging out at someones home so I used the Birdies Starling Loafers, also in black velvet. 
Related: The Birdies Starling Loafers Three Ways
These work with either bottom. 
And for a little touch of extra-ness, this padded headband from Gap, marked down to under $10 with all their promos. 
With Jeans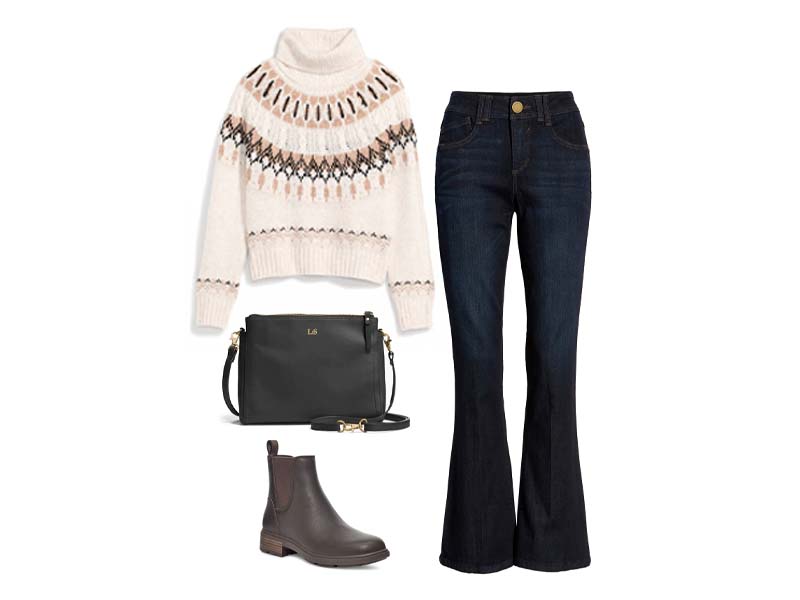 Itty Bitty Bootcut Jeans, $88 | Chelsea Boots, $150 | Crossbody bag, $149
This sweater is perfect to pair with jeans. 
Here, I'm featuring the Itty Bitty Bootcut Jeans from Wit & Wisdom that many of you purchased after we featured them last week. 
A bootcut will balance the volume of the sweater nicely. 
Of course, you can wear your favorite, most flattering style. 
And if you want to wear coated jeans, they would look great too. 
This is an excellent opportunity to grab your Chelsea Boots. So you can be outside, look polished and keep your feet warm. 
We've featured several pairs this season, but this pair from Uggs is new. 
I'm using the Stout Leather option, a dark brown that you can pair with black. 
And because I would wear this for an occasion in and outside, I like a crossbody option like the Pearl from Lo & Sons, still on sale for 50% off. 
Over a Dress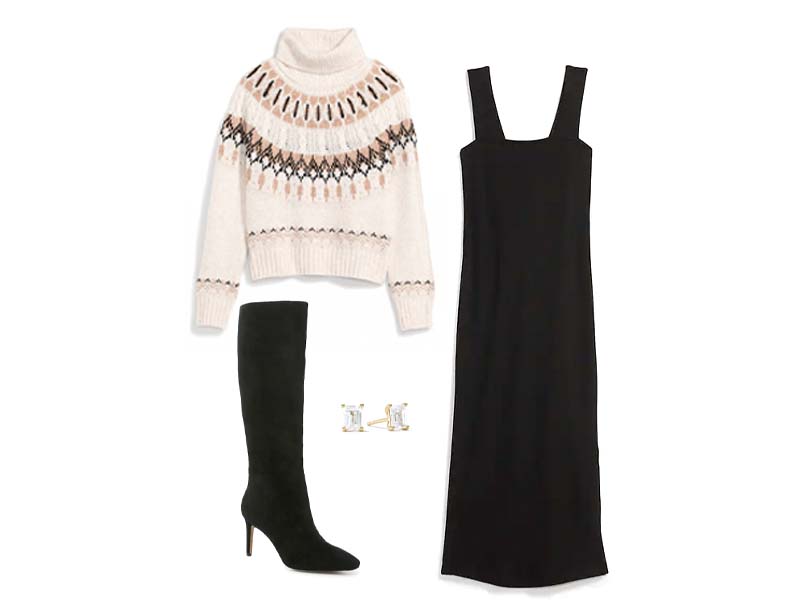 Rib-Knit Dress, $20 | Tall Boots, $150 |  Topaz Studs, $68 
Finally, I wanted to give you an outfit featuring a knit skirt but couldn't find one that (1) was affordable, and (2) came in enough sizes. 
So I looked in my closet and found a version of this rib-knit dress from Old Navy. (Mine is from the summer)
This one is only $20 and comes in all the sizes. 
Put on the dress, throw the sweater on top, add a pair of knee high boots.
This pair from Vince Camuto is one of our Reader Favorites, available at DSW in black or tan. 
Add a simple pair of studs, like this topaz set from Mejuri for just under $70 as a finishing touch and you are dressed.
They would also make a lovely gift.