This post may contain affiliate links, which means we may receive a commission if you purchase through our links. Please read our full disclosure here.
This post will show you 10 snow outfits for women to wear in wintery weather conditions.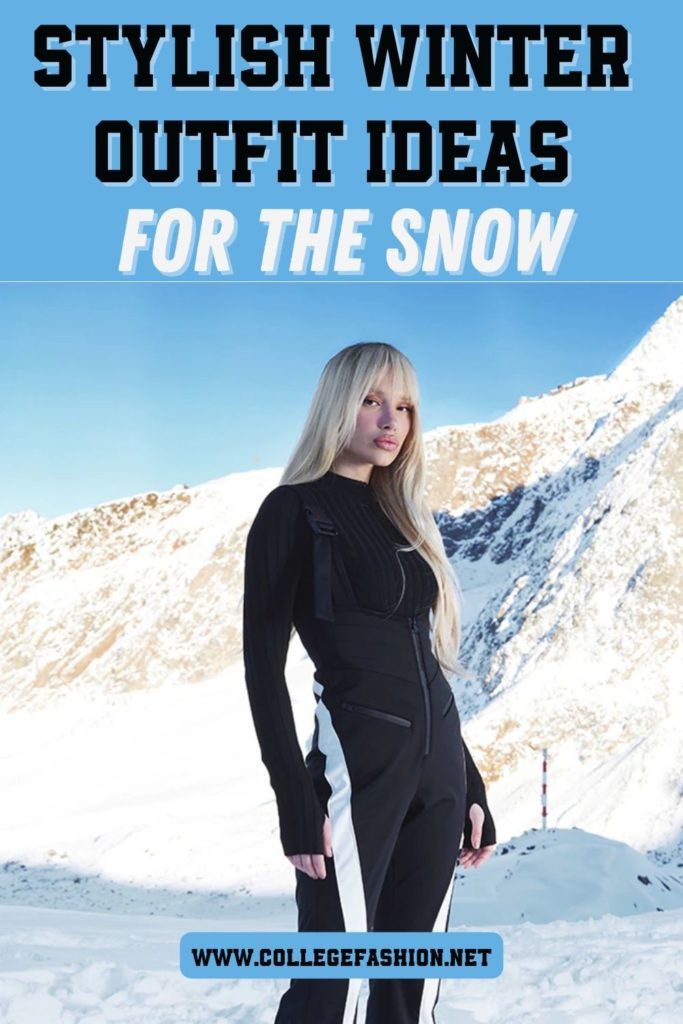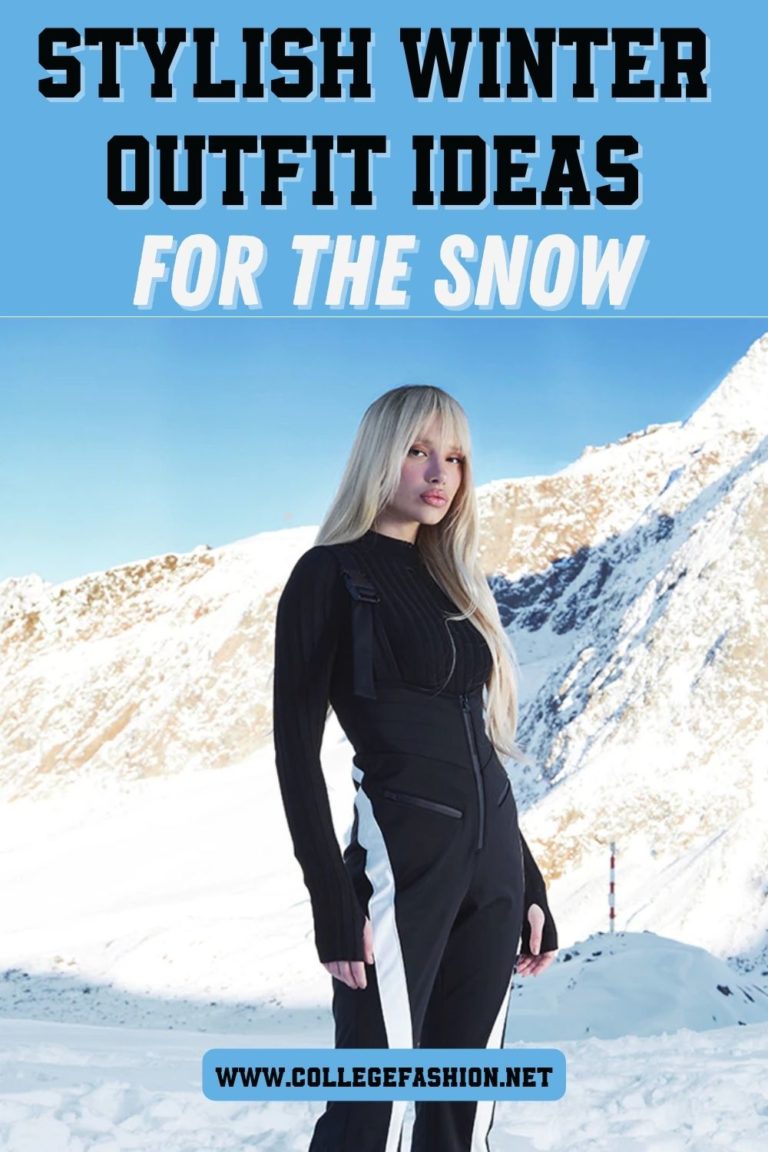 Baby, it's cold outside. And when that's the case, it's hard to think about fashion when you're just trying not to freeze!
But don't worry: I've come up with 10 stylish outfit ideas ideal for the snow and winter weather. You won't have to sacrifice staying warm or your style with these fashionable looks, whether you're hitting the slopes or going on a winter date night.
From statement coats to fleece-lined leggings to the cutest waterproof winter boots, these outfits all feature practical items that will up-level your winter wardrobe with both fashion and function.
First, though, here are a few tips to keep in mind when dressing for the cold.
Tips for Dressing for the Snow
Inner layers are everything! Layering lightweight, close-fitting tops under your sweaters can make a huge difference in keeping you warm when it's cold outside. The same goes for tights and leggings, which you can always wear under your pants or jeans for added warmth. Check out Uniqlo's Heattech line of innerwear or warming base layers from the brand 32 Degrees.
Knit accessories can help keep you warm while also adding fashionable flair to your outfit. For example, oversized scarves are a big fashion trend that can elevate a look and add significant warmth! Or, pick a beanie hat in a bright color to give your winter outfits a pop of color.
Sensible footwear is a must. It can be tempting to wear cute heels or casual sneakers, but I suggest opting for sturdy waterproof boots, ideally with traction soles. Grippy soles with traction can help prevent slipping and sliding on ice, and waterproof shoes mean you can avoid that icky wet feeling you may get from walking in the snow. Luckily, there are so many stylish pairs available, which you'll find in this post.
Snow and Winter Outfit Ideas
Now that we've covered the basics for dressing for the snow and cold weather, let's get to the outfits! Here are 10 cute outfit ideas you can wear on cold, snowy days (and nights) all winter long.
Casual Cute Winter Outfit
Cute and casual, this winter outfit is all about trendy details and pops of color.
Faux shearling and sherpa materials have been big fashion trends lately, and this padded fleece sherpa puffer jacket is as cute as it is cozy. This statement coat will instantly add trend appeal to your winter outfits, so you won't need to worry much about what you wear underneath it!
And while I wouldn't recommend making snow angels in a pair of jeans, heavyweight denim is otherwise an ideal option for the winter; a pair of jeans with a medium or light wash will help keep the outfit feeling fresh.
Play up the coat's fuzzy material with these stylish waterproof lace-up winter booties featuring faux shearling paneling and rugged rubber soles. I'm obsessed with their hiker-inspired details and chunky soles suitable for wintry weather conditions.
Add a playful pop of color with your cold-weather accessories: a pink rib knit beanie hat and pink tech gloves, which will keep your hands warm while still allowing you to use your cell phone.
Chic Snow Outfit
There's something about wearing all black that looks so chic, especially in a snowy setting.
Start with these black salopettes with contrasting white stripes that have a flattering "fit and flare" silhouette and are made from a stretchy scuba material.
A shiny black quilted coat with a faux fur trimmed hood will keep you warm while making you look ultra-sleek, and its stretchy belt will help to cinch your waist and flatter your figure.
Go glam with some black oversized shield sunglasses that look way more expensive than they are, and complete the ensemble with black faux fur-lined sherpa boots.
Neutral Winter Outfit
Neutral colors are always a good idea, and this chic winter outfit proves that wearing neutrals is far from boring.
This tan quilted jacket features a sherpa-lined interior, helping to keep you warm and cozy, plus a hood. Wear it over a light beige waffle knit quarter-zip sweater — sweaters with zippered collars are a stylish trend this season.
And while at first glance you may think these are regular black leggings and boots, think again: these leggings are fleece-lined for added warmth, and the knee-high boots are waterproof with sturdy platform lug soles to provide traction (and trend appeal). This means you won't have to worry about walking through melted snow or rainy conditions and can still look fashionable.
Opting for winter-ready pieces like these is one of the best ways to ensure your outfit is suitable for the cold. Add some adorable ivory faux fur earmuffs for a final touch.
Casual Cozy Winter Outfit with Ugg Boots
Go for a cozy, casual look that involves everyone's favorite winter shoe: Ugg boots. Uggs have made a huge comeback over the past two years (not that they ever went anywhere to begin with), and TBH, what's not to love about these warm, fuzzy, easy-to-throw-on shoes?!
Not only are the Ugg Classic Ultra Mini Booties the season's most coveted pair, but they are also waterproof, making them that much more functional. Wear them with some tapered-leg jeans and a longline teddy coat with a fuzzy faux fur material that matches the color of the boots. Underneath, you can wear a sweater, sweatshirt, or any warm top of your choosing.
Accessorize like a Scandi girl with an oversized brushed plaid print scarf and a coordinating alpaca-blend cuffed beanie hat to bring the look together.
Trendy Snow Outfit
Make the mountain your runway in this trendy snow outfit that will keep you warm and toasty while looking totally on-trend.
This gray base layer jumpsuit can be worn under other ski and snow gear to keep you extra warm, or it can be worn on its own — it's honestly too cute to cover up! The jumpsuit features a brushed inside material for added warmth, and of course, wearing a long down puffer coat over top will help keep you warm, too. I adore the metallic silver lining on the coat that makes it unique, along with its side snap vents that allow for more comfortable movement when walking and sitting.
Play up the coat's silver lining with cool silver rimless wraparound sunglasses and throw on a cute puffer-like beanie hat with a warm sherpa lining and faux fur pom.
One of the most unexpected fashion trends this season? Moon Boots, cold weather puffer boots that are a bit of a splurge but make a major statement.
Parisian Chic Winter Outfit
To me, this ensemble is giving Parisian chic — I imagine this is how a stylish French woman would brave the winter weather when heading out and about. Isn't that an aesthetic we'd all want to achieve ourselves?
Stripes are a classic, and this striped turtleneck sweater with an oversized fit is a piece that won't go out of style. Wear it over faux leather leggings that are fleece-lined for added warmth, making them a winter essential, along with these waterproof Chelsea boots. They'll keep out the wet elements but look super on-tread with their chunky treaded soles.
Bundle up in an ecru teddy coat, and add pops of color with a red rib knit beanie hat and matching convertible gloves.
Sporty Cool Snow Outfit
For a cool, sporty aesthetic, wear an ultra-bright puffer jacket with your ski pants for an eye-catching look.
This kelly green cropped puffer jacket has a water-resistant outer shell, adjustable bungee cord at the hem, and warm-as-down insulation, making it a great choice for the snow. It comes in a few other bright hues like imperial blue and neon pink, but this shade of green is giving major Bottega Veneta vibes.
Since the jacket is so bold, go for simple yet functional ski pants; these are made with water-repellent fabric and feature stirrups, making it easy to tuck them into your snow boots.
Speaking of snow boots, this lace-up pair has sneaker-like bottoms, making them extra comfortable for walking around. Plus, they are insulated and waterproof to ensure your feet stay dry.
Be sure to have fun with your accessories by wearing an eye-catching checkerboard pattern beanie hat and some sport-shield sunglasses with mirrored lenses.
Winter Date Night Outfit
When it's cold outside, getting dressed for a date or a night out on the town can feel challenging, but it doesn't have to be — and it also doesn't mean you have to dress in oversized or ultra-heavy layers.
Yup, you can dress warmly while still looking sleek, so long as you are strategic with the items you wear. For example, this pretty beige turtleneck bodycon sweater dress is made from a thick ribbed knit material that feels like a sweater but looks super flattering thanks to its fitted bodice.
A cropped faux fur jacket with a shawl collar is a luxe outerwear option that dresses up the outfit and won't look bulky like a puffer coat might. You could also consider a faux fur-lined aviator jacket or a long structured coat.
Opt for chic accessories like small chunky gold hoop earrings and a cream-colored mini saddle bag with a gold-tone buckle for added flair.
I love the way knee-high boots look with long dresses, and this platform pair is actually waterproof, making them ideal for a winter night out. If it's really cold out, add some insulated black tights for added warmth.
Laid-Back Snow Outfit
Keep it laid-back in this casual and colorful winter outfit featuring a fun graphic print "Apres Ski" sweatshirt. It is so adorable and a great way to add color to your winter outfits, which can tend to have dark color palettes.
Pair the sweatshirt with light gray wide-leg fleece sweatpants and a light blue hooded puffer coat for a coordinated look.
A red waffle knit beanie hat will help keep you warm while adding another pop of color to the outfit and perfectly matching the red font on the sweatshirt.
Complete the ensemble with waterproof sneakers: this mid-height pair has a rubber platform outsole with wet traction, making them perfect for a winter wonderland walk.
Ski Slopes Snow Outfit
Hit the slopes in style with this retro-meets-glam snow outfit. You'll make a statement in this blue scuba suit with a faux fur collar and a figure-hugging fit. It features a water-resistant and wind-resistant material, making it just as practical as it is stylish!
Since the suit has white racing stripes down the sides (which, BTW, are a flattering touch), go for some white waterproof snow boots with faux fur lining. This affordable pair also have grooved rubber outsoles and are made to withstand cold temperatures.
Bring this fun ensemble together with a luxe-looking ivory faux fur headband and some mirrored polarized sport sunglasses.
What do you think of these snow outfits for women?
Would you wear these snow outfits? Which look is your favorite? Leave a comment and let us know!