Ladies, today is the day we start to get your style and wardrobe in order!
Whether you work in or out of the home, have little kids at your ankles or grown adult children, are getting back in the workforce, are blissfully retired and focusing on your passions, or just starting your New Year eager to reconnect with yourself, this challenge is for you.
Our four-week series is for real-life women, of all shapes, sizes, lifestyles, and budgets. If you want to discover your authentic style, where to find it, and how to wear it, you're in the right place.
Participating couldn't be easier.
Just follow our Friday post for the month of January, starting today.
Here's How the Wardrobe Challenge Works:
Every Friday, for the next four week, we share two challenges.
It's important to take your time with each challenge but try to complete each challenge in a week's time.
Just be sure to finish each challenge in order before moving to the next.
I  designed the Wardrobe Challenge to build upon the tasks of the previous week. 
You can follow along with the group (join our Private Facebook group to interact one-on-one) or go at your own pace. 
And these posts live here on The Well Dressed Life so you can come back to reference them whenever needed.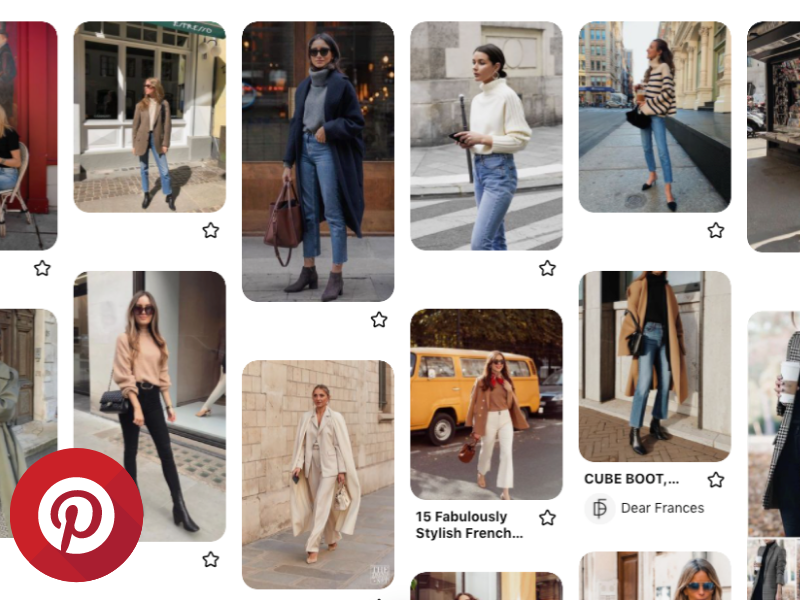 Challenge #1: Discover Your Style
In 2007 I started my personal styling and shopping business, Kristel Closets.
The first appointment with a client would be in their closet, where we we talked about her clothing challenges, likes, and dislikes and did a quick edit.
During those first few hours, I noticed that almost every client had trouble describing their style. 
It didn't take long for me to realize that we needed a visual to articulate each client's unique personal style.
So I created a series of pre-work for them to complete before our first appointment, designed to help the process move smoothly and efficiently.
I was always aware of our private clients' investment when they chose to work with us, so this was a way to ensure we got on the same page as quickly as possible and spoke the same language.
Pull Inspiration Pictures
A big part of this pre-work was pulling inspiration pictures. 
I can tell you that the clients who take the time to complete this task will have the most success. And the same goes for our readers who take this challenge seriously. 
Do not skip this part. 
Many of you are looking to streamline and simplify your wardrobe; others mentioned that they recognize style in others but have difficulty translating it for themselves. 
And an overwhelming majority of participants say they simply have too much in their closets.
Without a clear understanding of your style, you will not be able to edit down your wardrobe.
This first challenge allows us to create a filter for future decision making. These inspiration pictures will help you purge your closet and shop better.
And you will begin to recognize what you like quickly. 
We recommend Pinterest to help organize these images, especially for this challenge. It's a great place to search for and share ideas. 
Above is a snapshot of my personal board.
Pinterest Image Exercise
1. Log into/ Set Up an Account on Pinterest.
2. Create a Board called The Well Dressed Life Wardrobe Challenge. 
3. Begin to search for images. When searching, type in words like classic style 2023, workwear 2023, casual outfits 2023*. 
4. "Pin" those images onto your board, at least 20. 
5. Share your board in our Private Facebook Group.
*Adding the year to your search word is super important, so the most current images show up in your feed. 
For now, do not think about your body type, budget, or whether it's appropriate for your life. Pin anything you like. 
Challenge #2: Define Your Lifestyle
Our lives are continually evolving, but our wardrobes tend to stay the same.
If you have changed jobs, got married or divorced, had a baby, had another baby, left the workforce, retired, or you're reseting after the past few insane years, this exercise will help you get clear on your needs.
To get a visual of how and where you spend your time, create a Lifestyle Diagram.
It's easy; draw a circle on a piece of paper to create a pie chart. Now, break down your life according to percentages totaling 100%.
Include work, activities, travel, date nights, anything you spend time doing. It's essential to see how you are spending your time and what is coming up on your calendar.
You might find you're buying a lot for work but have nothing to wear on the weekends. 
When I first did this exercise, I didn't have enough options for social outings and date nights. Today, I need more sporty, casual pieces for weekends on a sideline.
Tip! We have had some participants take this very seriously! They went so far as to create an Excel spreadsheet and pie chart to capture their percentages.
Here's My Lifestyle Diagram: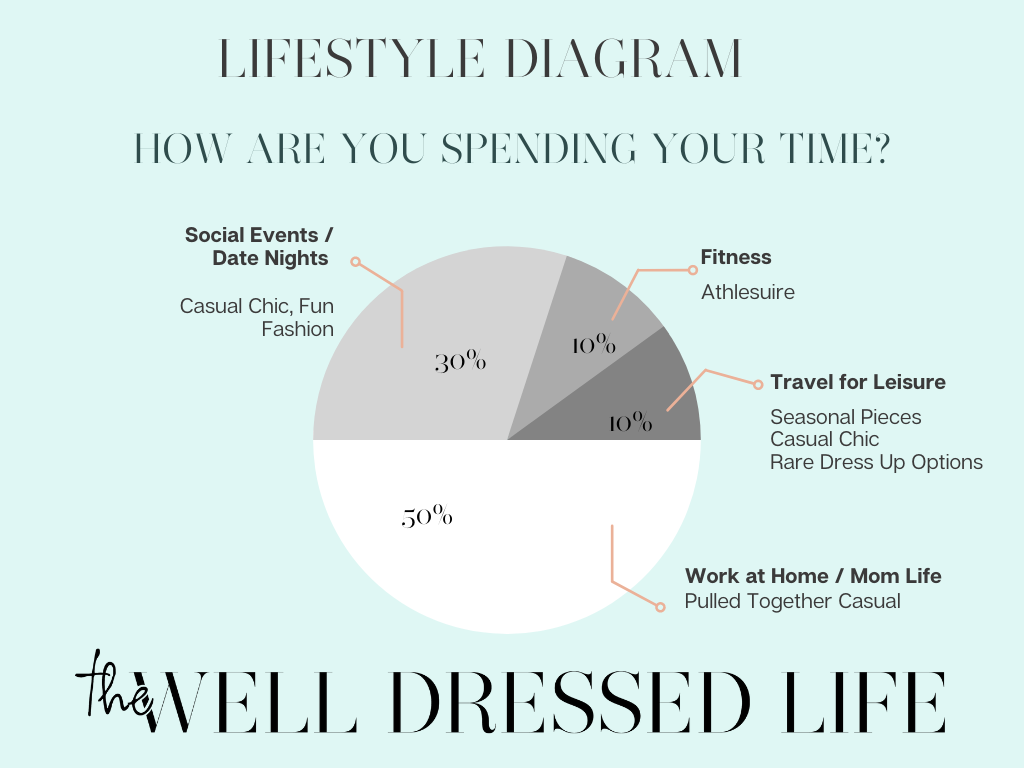 You can organize this in whatever way makes the most sense for you.
I'm basing my diagram this time on the winter season, which is January – March, because each new season brings a schedule change, a different trip, and other things to do.
For example, we'll have a few trips to Florida this winter, so I'll need some warmer weather pieces on hand, but then in the spring, with a million games and tournaments on weekends, I'll need more athleisure.
Post your charts and Pinterest Boards in our Facebook group for everyone to see! 
Complete both of these challenges before you start the next round of challenges in Week #2.
And please note, for this Challenge, our Weekly Facebook LIVES will be on Monday's at 3pm EDT, in our Private Facebook Group. If you can't join us live, the video will be posts in the group and at the bottom of this post once the session ends. I'll go over each week's challenges, share some tips and answer all of your questions. So I will see you on Monday, January 9th at 3PM EDT!